Working on the farm requires the right equipment, as well as keeping that equipment up and running. There are many different kinds of work trucks and bodies used in the ag business that keep combines running, haul feed and seed, as well as pull your farm equipment from place to place. Here are some tips for finding the right work trucks for your farm.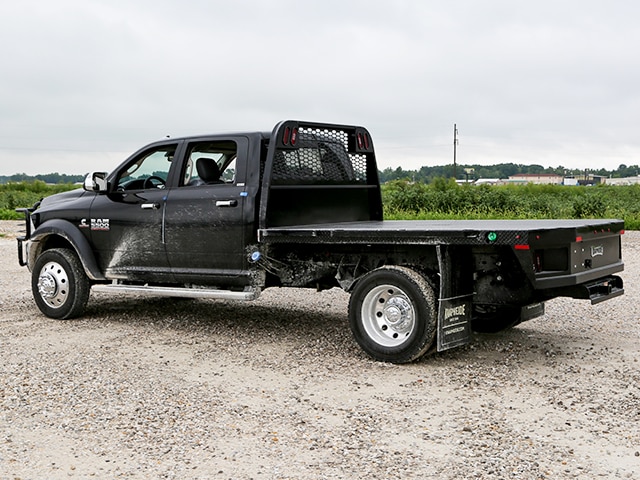 Gooseneck bodies are one of the most commonly used bodies on the farm. From hauling a livestock or equipment trailer to providing a competent flatbed hauling solution, a gooseneck body can be an agriculture workhorse.
Integrated storage, receiver hitches and bulkheads can be installed to make these vehicles even more effective on the farm.
POPULAR OPTIONS FOR GOOSENECK BODIES
Side Stakes/Boards – Keep your important cargo securely on the flatbed of your gooseneck with side stakes or boards. Typically available in varying heights, stake sides allow you to store bulky or stacked items on your platform surface without the worry of it falling off.
Toolboxes – It's handy taking your important tools and equipment with you from jobsite to jobsite. The cab of a work truck doesn't always allow you to do that. That's where over- and under-body toolboxes come into play.
Contractor Package – The Contractor Package provides storage space with above and below body toolboxes along with a cargo area with stake sides.
Gooseneck/Service Body Hybrids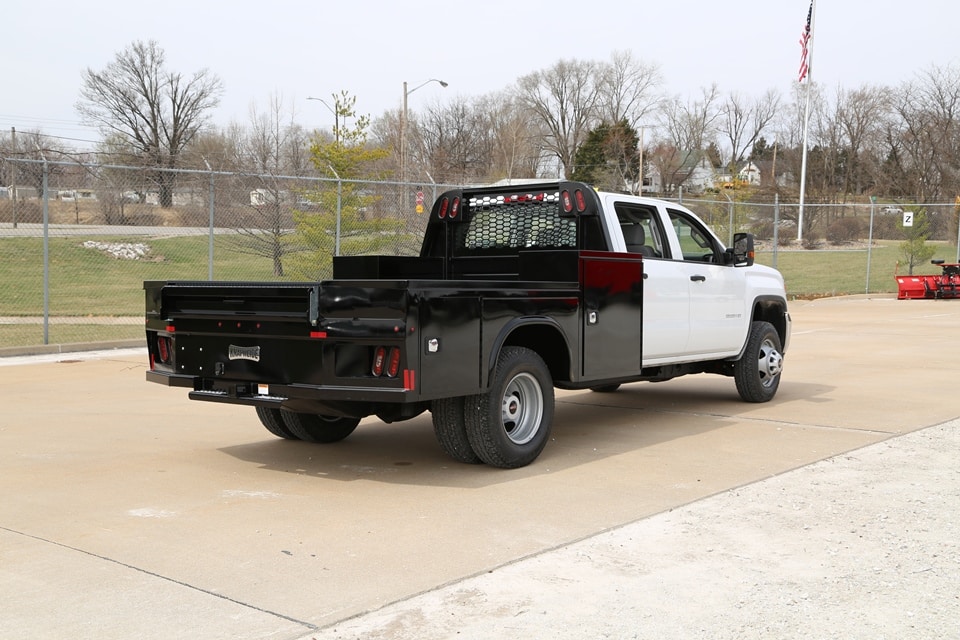 If you need the hauling capability of a gooseneck and the additional external storage of a service body, you're in luck because there are hybrid gooseneck/service bodies that achieve just that. With added side skirting and integrated side storage compartments, gooseneck/service body hybrids are a versatile solution for the farm.
These bodies can be finished with similar options to a standard gooseneck body to make them even more powerful on the farm.
POPULAR OPTIONS FOR GOOSENECK/SERVICE BODY HYBRIDS
Mechanics Drawers – Although side storage compartments make these bodies capable tool-storage options, installing a mechanics tool drawer takes tool storage and organization to new levels.
Power Locks – Quickly lock or unlock your compartments so you can rest easy knowing your equipment and tools are stored securely, but ready for access at the push of a button.
D-Rings – Need to haul large items or bulk materials on the bed floor? Cargo area D-rings make it easy to secure the load down to prevent it from shifting during transport.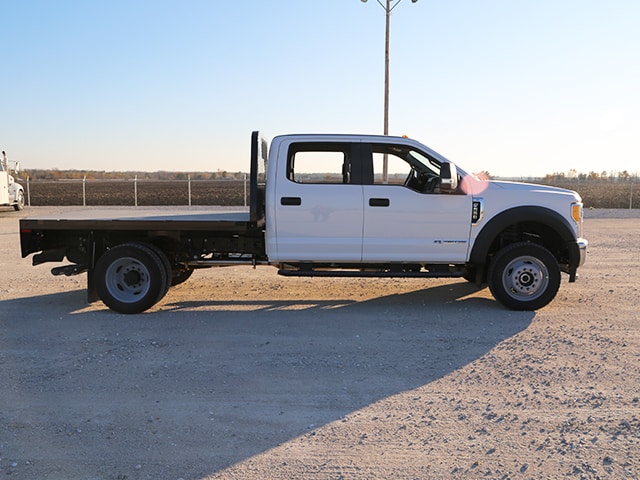 One of the mainstays of the farm for years has been the platform body. As long as farmers have been farming, they've been hauling materials on flatbed trucks and trailers. Whether it's feed, crops, fertilizer, or any number of ag products, a platform truck body is the premier option to haul it from A to B.
When paired with the following popular options, platform bodies can even more effectively meet all of your hauling needs of the farm.
POPULAR OPTIONS FOR FLATBEDS
Stake Sides – Easily convert your standard platform to a tall cargo hauler with stake sides. When your cargo stacks taller and taller, stake sides help you keep it contained.
Hoist – Completely transform your platform body by installing a hoist to allow for dumping capability.
D-Rings/Tie Down Channel – It's important to secure your cargo large and small. D-rings or tie-down channels give you the ability to secure content to the surface of your platform for safe transport.
Toolboxes – While platforms are great hauling options, they're not ideal for hauling your tools. However, with over- and under-body toolboxes, platform bodies can carry all of your tools from site to site so you're always ready to work.
ICC/Receiver or Pintle Hitch Combo – For trailers and pieces of large equipment that you can't haul on the back of a platform, installing an ICC/receiver or pintle hitch allows you to pull an equipment or implement trailer.
Storage Pack – Have room for tools, equipment, shovels and more by having a storage pack installed between the truck cab and flatbed body. Store a variety of items large to small in the storage pack.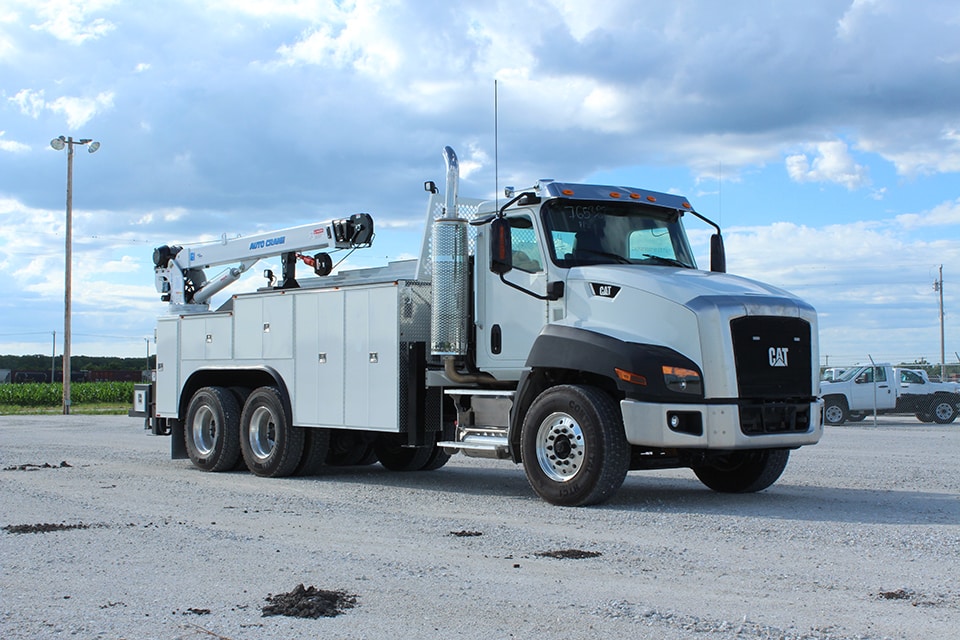 If your heavy ag equipment isn't running, neither is your farm. So it's important you have the service trucks in place to keep your farm equipment running around the clock. A mechanics truck functions as a mobile workshop on wheels, keeping your farm equipment in the field and running.
With a crane for lifting heavy equipment, external storage compartments and many options such as welders or compressors, mechanics trucks are the ultimate ag service vehicle.
POPULAR OPTIONS FOR MECHANICS TRUCKS
Compressor – An air compressor with proper specifications can run all of your on-board pneumatic tools and pumps for equipment service.
Lube Skid – Changing the fluids on your ag equipment like tractors or combines is an important factor to their longevity. An onboard lube skid allows you to carry oil and other important fluids to your equipment to minimize maintenance downtime.
Mechanics Vise – Turn your bumper into a mobile work bench for cutting lengthy pieces of steel, pipe or wood.
Welder – When heavy equipment breaks, it isn't usually a small fix. A welder, typically mounted to the top of your compartments, is a necessity when it comes to heavy ag equipment repair.
Grease Drum – There are a lot of moving parts on farm equipment. Much like a lube skid, a grease drum is focused on preventative maintenance and minimizing downtime by servicing products in the field.
Cargo Enclosure – A tarp or telescopic sliding roof application can create a safer and more secure cargo area for your mechanics truck. While you want to handle all your service in the field, sometimes you need to bring parts back to the shop. Keep them covered and protected with a cargo enclosure.
Auxiliary Power Unit – An APU is a system that can provide power to a mechanics truck in the form of electricity as a generator. Some APU systems are an all-in one solutions that provide air compressor and hydraulic pumping capabilities, as well.
Auxiliary Work Lights/Compartment Lights – Farming isn't a 9-to-5 job, and your work doesn't wait for the sun to come up or quit when it goes down. Auxiliary and compartment lights keep you working around the clock.
Mechanics Drawers – Most mechanics trucks come equipped with mechanics drawers in one compartment but what if you need more organized tool storage? Installing additional mechanics drawers can keep you organized and help you quickly find the tool you need so you can get back to the job.