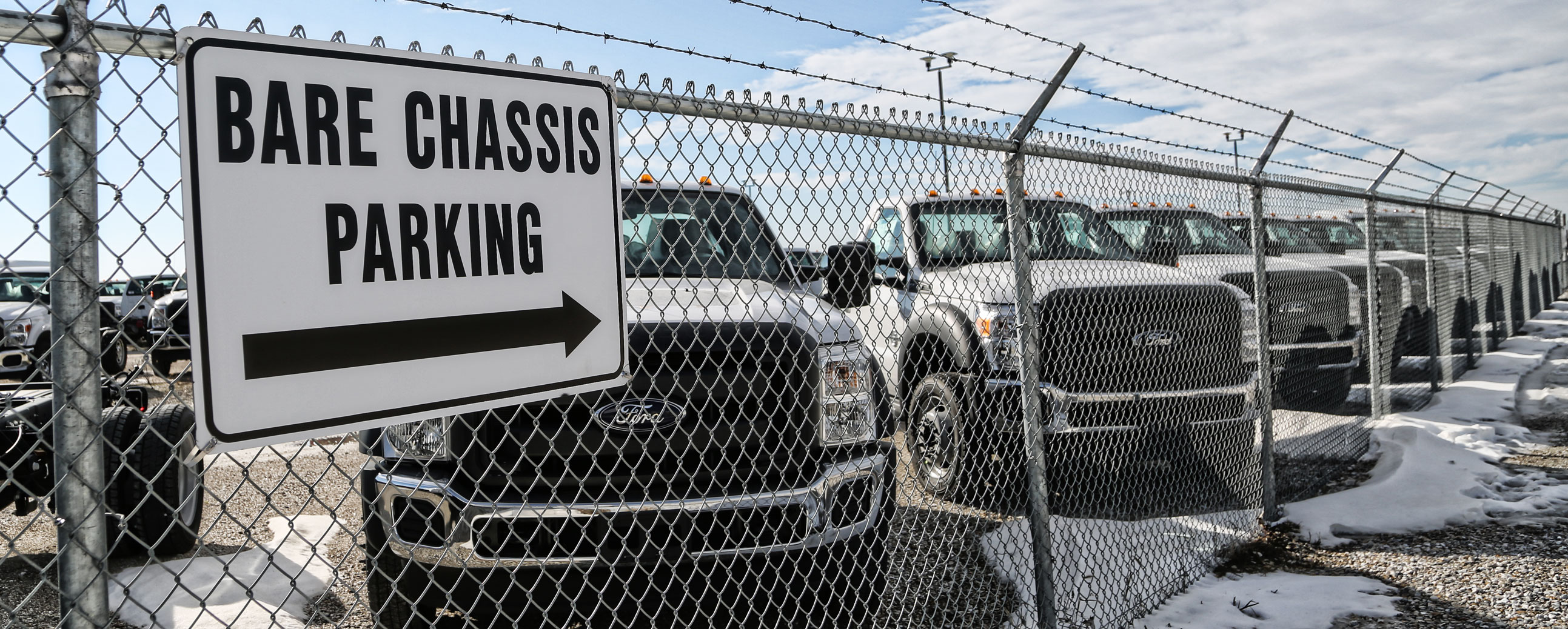 Choosing a new chassis for your work truck can be a daunting task. With such a wide range of options to choose from, how do you pick the right one? Why is your chassis so important anyway?
"[As an upfitter,] our only barrier to providing a solution is a chassis' limitations," Toby O'Cheltree, General Manager of Knapheide Truck Equipment Centers Illinois, said. "Products can supersede what the actual chassis can handle with weight and length. Don't sacrifice or limit yourself because of your chassis."
What to Consider
Year, Make and Model
The year, make and model can tell you a lot about your chassis, like the location of certain elements, what onboard technologies it has and if there are any special upfit integration features.
"Most OEMs have chassis (body) styles that range, on average, for 5-6 years before doing an 'overhaul,' only doing minor cosmetic/spec nuances year-over-year," Tyler Coverdell, Knapheide Outside Sales Representative, said.
If you're choosing a chassis that's a couple of years old, check online to see if you can find any reviews of features that work well or ones that cause issues. It may save you from future headaches.
Cab Chassis or Pickup
If you're looking for flexibility, a cab chassis is the way to go.
"Chassis cabs allow for greater customization for upfitters because auto manufacturers know something work truck related is ultimately going on the back," Coverdell said.
Original Equipment Manufacturers (OEMs) only make pickups with bed lengths up to 8'. Meaning, if you need something longer, you'll have to go with a cab chassis. An 8' bed pickup does have its advantages though: higher horsepower and torque ratings from the factory.
Cab Style: Cab or Cutaway? Regular, Extended or Crew Cab?
Just like every other aspect of your work truck spec'ing, there's no cut-and-dry, one-size-fits-all answer to these questions. To help you decide, let's first take a look at the decision between a cab and a cutaway chassis.
Cab or Cutaway?
What's the Difference?
A cab chassis is a fully-enclosed cab. The cutaway chassis is a cab design with no back wall, allowing access from the cab to the attached body.
How to Choose
Perhaps one of the easiest ways to rule out one of these options is to consider what body you are looking to upfit your truck with. Cutaways are great for KUV bodies, box trucks and flatbeds. But, if you're looking to add a dump, gooseneck or crane body, you'll need a cab.
Still not sure?
Consider what class your work truck will be. (If you need a refresher on the class sizes, check our blog post here.) The cutaway chassis is only available for Classes 2, 3 and 4. For work trucks outside of those classes, you'll need to opt for the cab.
For more help choosing between a cab and cutaway chassis, check out our blog post here.
Regular, Extended or Crew Cab?
What's the Difference?
The regular cab has two doors with one row of seating. An extended cab has two full-size doors with two narrower rear doors. While there are two rows of seating, the back row has less legroom. The crew cab configuration has four full-size doors and two full rows of seating.
How to Choose
When it comes to choosing your cab configuration, there are two important factors to consider: weight and travel companions.
Weight capacity is one of the more important items to consider when deciding on a cab style, as it impacts the unloaded vehicle weight (UVW), or the weight allowed by the auto manufacturer. The UVW also impacts payload. The closer you get to the UVW, which would be the case for extended and especially crew cabs, the more likely you are to overload and overwork your truck. This means, if you opt for a heavier chassis, the crew cab, your upfitter may not be able to upfit your truck with certain bodies.
When making this decision, you should also consider your travel companions. If you work alone, there may be no reason to invest in an extended or crew cab. On the other hand, if you need to haul cargo in the chassis of your truck, or you're regularly traveling with a crew to work sites, you may want the extra room.
Gas Versus Diesel
To decide on a gas or diesel, think about the capabilities you would like your truck to have. Gas engines weigh less, which means they have a higher payload, but have less torque. Diesel tanks weigh more (around 800 lb. more), which means they have a lower payload. Benefits of having a diesel include higher torque and tow capacity, in addition to having a higher resell value (although they will cost you more upfront).
"Gas engines have historically been geared for lower-tier applications like an 8' service body or KC body for an F250/F350," Coverdell said. "Diesel engines are usually used for applications like 9' and 11' service bodies, KMS/KMTs and 11' goosenecks."
Should You Choose SRW (single rear wheel) or DRW (dual rear wheel/dually)?
To choose between SRW and DRW, consider the application of your vehicle and the type of body you hope to add. For those planning on making their unit a crane truck, like Knapheide's KMS or KMT, a DRW chassis is a must for stability.
"DRW is also popular among those who want a wider flatbed or deeper compartments on service body applications. From a towing perspective, it adds capacity and stability when paired with a diesel engine," Coverdell said. "The biggest downside to DRW is that it will put the EU over 10,000 lb. GVW, which means you will be subject to DOT regulations and inspections annually to operate."
If you aren't planning to add a heavy body and won't need a high payload capacity, an SRW chassis may be a better option for you. SRWs are not only more fuel efficient than DRWs, but are also cheaper upfront and to repair.
Know the Upfit – Additional Tips and Notes
Tyler Coverdell – Knapheide Outside Sales Representative
Different makes/models/engine sizes have different gross vehicle weight ratings (GVW or GVWR). The GVW is the maximum allowed weight a chassis can haul and is specified by the auto manufacturer.
Payload = GVW – UVW
The cab-to-axle measurement (CA) is the most constant measurement on a truck and is not dependent on cab configuration.
A good practice is to take your truck to a spring shop to level, once you have your truck loaded with all your tools for daily use.
Given the current chassis shortage, finding a truck on the ground is difficult. Finding and retaining a qualified tech is even harder. Being proactive and thinking about the intangible cost of spec'ing for creature comforts a tech might want to add helps retain existing employees and can be a bonus when trying to onboard new staff. In today's climate, nothing is cheaper tomorrow than it was today.
James Branch – Knapheide Outside Sales Representative
If you choose a pickup truck, know the TRIM level. Newer pickups can't have certain upgrades and still fit a body.
When installing equipment like electric hoists, plows, spreaders, etc., you will need dual batteries (diesel engines come with two).
When installing hydraulics, verify PTO opening, alternator size and engine size.
What Your Upfitter Needs to Know About Your Chassis
Cab Chassis or Pickup
Cab Style
SRW or DRW
Fuel Tanks
GVW of the Chassis
Cab-to-Axle Measurement