HVAC technicians rely on their work vehicle to store everything they may need on a job. Time is money for these professionals so finding the part they need quickly on their work vehicle is important. Regardless if the work is new system installation or service and repair, from residential to commercial, these are the vehicles that can make HVAC technicians more efficient and productive.
Crawling into the back of your van every time you need a part or tool can cost you time and cause unnecessary wear and tear on your joints. Utility bodies enable you to store your most commonly needed tools and parts within easy to access side compartments. Conduit chutes and an enclosed cargo area create storage for longer or oversized items.
A one-size fits all approach does not work for all HVAC work. That is why the ability to customize your work vehicle is important so you get the most value out of your investment. Options and accessories can take your utility body from good to great and make you even more efficient.
POPULAR OPTIONS FOR UTILITY BODIES
Liftgate – Unloading that new HVAC unit from your cargo area is no easy task. Give your back a break and let the liftgate handle the heavy lifting.
Ladder Racks – Storing your ladders on the floor of your cargo area eats up a lot of real estate and makes it difficult to move around, instead get a ladder rack installed on the top or side of your utility body for convenient storage.
Cargo Area Crane – Easily lift that old, heavy water heater from the ground into the back of your cargo area with a small cargo area crane.
Power Locks – When you walk away from the cab of your truck you push a button and it's locked down and your service body should be no different. Convenience and security is important.
E-track – Keep those refrigerant tanks secured against the sides of your cargo area with E-track and E-track accessories.
Mechanics Drawers – Hand and power tools need to be organized so you can quickly retrieve exactly what you need without lost time searching.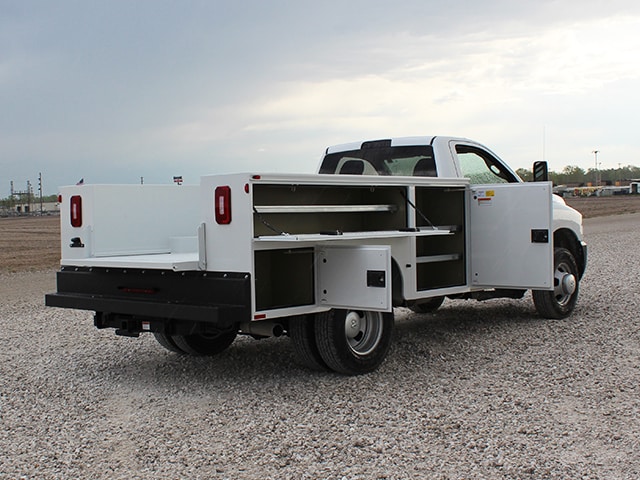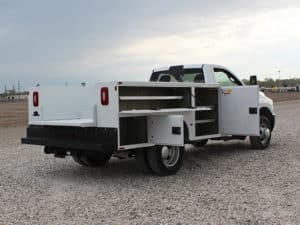 HVAC professionals throughout North America utilize service bodies to haul their tools, equipment and components. If you currently work out of a pick-up bed and have to constantly climb up into the bed of your truck to access what you need, it is time to think about something more efficient. Jump out of the truck cab and just a few steps away are your side compartments with all the tools and parts you need for the job.
Need more than a standard service body for your job? No problem, choose from many options and accessories most common for HVAC industry professionals.
POPULAR OPTIONS FOR SERVICE BODIES
Material Rack – Keep pipe and conduit out of your bed space with a rugged material rack.
Power Locks – You are used to climbing out of your work vehicle and hitting a button to lock up the cab, why not do the same with your truck body with the power locks option.
Compartment Lights – Have to use a flashlight for those off-hour service calls? Stop searching with your hands for the tools you need and get your next service body with compartment lights to make it convenient for you.
Part Bins – Keep your parts and components organized and easy to find with slide-out, dividing parts bins.
Cab Guard – Keep the equipment and parts in your service bed from coming through your rear cab window in the event of a hard stop or accident. Safety is vital with your work truck.
Mechanics Drawers – Hand and power tools need to be organized so you can quickly retrieve exactly what you need without lost time searching.