While the days of the "woodie wagon" seem to be long behind us in the consumer vehicle segment, the commercial vehicle segment still relies on wood sides for both practicality and, in some cases, an aesthetic that stands apart from other work trucks on the road.
The dump truck bodies upfitted by Dave Wilcox and company at Universal Truck Body in Fontana, California are every bit as fashionable as they are functional. If you've seen one of these upfits, you know exactly what we're talking about.
"Historically, in the old days, standard plywood was the material used for side boards on truck bodies," Wilcox says. "But that wasn't cosmetically sound."
Wilcox notes that, over time, builders started using MDO (medium-density overlay) to provide more longevity to customers that utilized wood side bodies. However, many still finished the lumber with paint, which became somewhat of the industry standard, and was arguably lacking in integrity.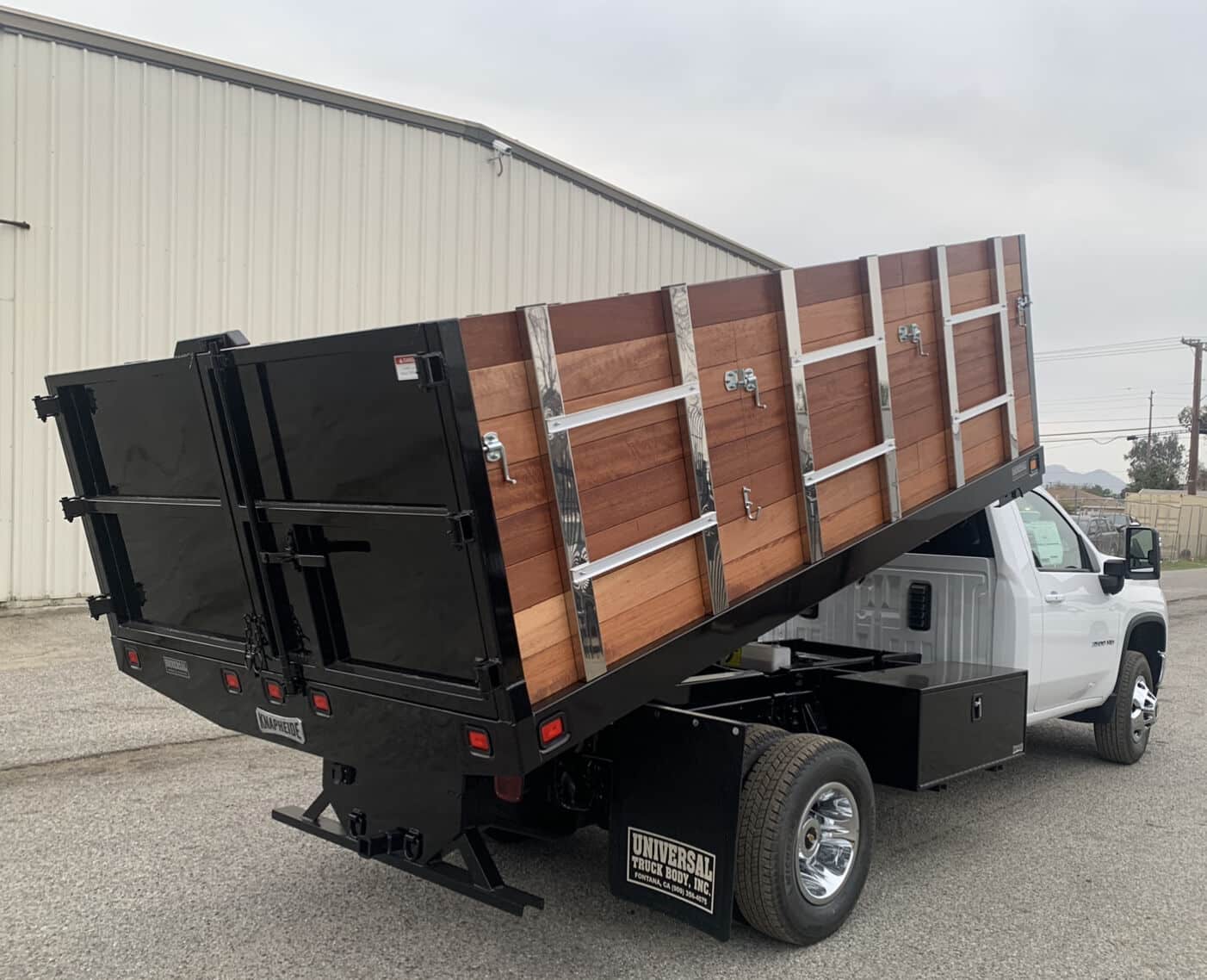 For Wilcox, there's more benefit in oiling the hardwood, a finish that offers an eye-pleasing look that also stands up better to the rigors of the customers using these truck bodies on a daily basis.
"For my purposes, avoiding paint is always a good thing due to the time constraints and cost that comes with it," Wilcox notes. "My experience with plywood is that it splits and gets beat up more easily. To get it replaced becomes a chore because, again, you have to deal with the process of painting and the labor to replace the entire gate."
To combat the drawbacks of plywood, Wilcox and Universal utilize hardwood slats for a variety of reasons.
"With hardwood slats, if one slat breaks, it's a quick and easy fix," Wilcox informs. "You're taking out and replacing or repairing one single piece instead of a whole sheet of plywood, which takes a lot less time and hassle."
As mentioned, in addition to the practicality and durability provided by the oiled hardwood slats, it looks great on the road and on the job.
"There's a lot of benefit to building sides this way, mostly avoiding paint costs and time delays," Wilcox offers. "But, it also stands out from others and looks pretty darn cool. I've never had one complaint on the fit and finish of our landscape sides with hardwood slats."
The benefit of any Knapheide body is customization like this that allows each customer to receive a truck body that's built to their specifications, meets their standards of quality, and allows them to carry out any work they're able to throw at it without the added worry of its life expectancy.
VIEW THE GALLERY
PHOTOS COURTESY OF UNIVERSAL TRUCK BODY