Purchasing a service or utility body isn't a decision to be taken lightly for your business. Whether you have one or 50 vehicles in your fleet, it's important that you take the right amount of time to create a work truck solution that works for you and your company.
DO YOU NEED AN OPEN OR ENCLOSED CARGO AREA?
One of the first questions you should ask when building your next service or utility body is do you need a cargo area that is open, similar to a truck bed, or enclosed, similar to a cargo van.
While both bodies feature the organizational advantages of external storage compartments and security features to keep your tools safe, the main difference between service and utility bodies is the cargo area.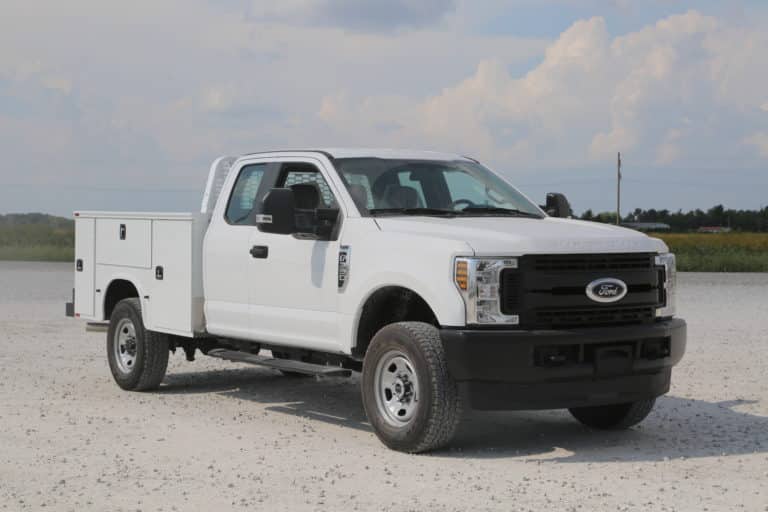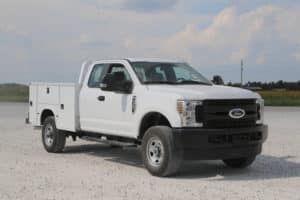 NOTE: When referring to a service body, the cargo area is open. When referring to a utility body, the cargo area is enclosed.
If an enclosed cargo area is a necessity to you, a utility body is the most logical option. Utility bodies feature low, medium and high-roof versions, depending on the amount of storage space and inner-body maneuvering needed.
Utility bodies also provide the added advantages of cab-to-cargo-area pass through (in cutaway van chassis) and conduit storage chutes. If you're looking for a lower-profile, open cargo area option, a standard service should meet your needs.
NOTE: For service bodies, many manufacturers offer models with or without fliptops, raised front compartments, low profile side packs and more. For enclosed utility bodies, many manufacturers offer multiple roof heights.
SERVICE/UTILITY BODY BUYING CHART
| BODY TYPE | ADVANTAGES |
| --- | --- |
| Service bodies with fliptops | Ideal for storing longer items such as levels or utilize dividers to organize parts and hardware |
| Service bodies with a raised front compartment | Ideal for storing taller items like oxygen and acetylene tanks for welding applications |
| Service bodies with low profile sides | Ideal for better rear visibility, especially when hauling a receiver or pintle hitch trailer |
| Utility body with low roof | Ideal for applications where there is low traffic within the cargo area and vehicle needs to park in a standard height garage |
| Utility body with medium roof | Ideal for applications where operator needs to access rear cargo area on a somewhat regular basis |
| Utility body with high roof | Ideal for applications where operator needs to access cargo area often or transport very tall items standing up |
*Always work with a distributor to determine body and chassis compatibility
Once you've decided between a service or utility body, you'll have to determine your body length. If you've already got a chassis, the cab-to-axle (measurement in inches from the back of the cab to the rear axle) of that chassis will determine what size body you need. If you're purchasing both the chassis and body new, you'll have the flexibility to choose the body that matches your application then match it to a chassis that fits the body and your needs.
Here's a quick reference guide for body and chassis compatibility.
| CHASSIS | BODY LENGTH |
| --- | --- |
| 40" CA single rear wheel | 6.5' Body |
| 42" CA single rear wheel | 6.5' Body |
| 56" CA single or dual rear wheel | 8' Body |
| 60" CA single or dual rear wheel | 9' Body |
| 84" CA dual rear wheel | 11' Body |
| 108" CA dual rear wheel | 13' Body |
| 120" CA dual rear wheel | 14' Body |
GROSS VEHICLE WEIGHT RATING & PAYLOAD
When choosing a chassis, one of the most important things to consider is how much payload you'll be carrying. The Gross Vehicle Weight Rating is pretty much how much your truck can carry, including all passengers, fuel, fluids and cargo, so it's important to consider all potential factors that count against GVWR when choosing a chassis size. Be sure to understand the gross vehicle weight rating of the chassis and subtract the chassis curb weight, full fuel weight, passengers, truck body and components as well as the weight of the tools, parts and equipment you need to carry to come up with an accurate payload calculation.
NOTE: Remember, if you need to maximize your payload combining a higher class vehicle (class 3 and above) with dual rear wheels will generally yield a higher available payload.
Where will you be primarily using your service or utility body? If your vehicle will be off road or in challenging conditions, a 4×4 might be best for your application. If your vocation mainly operates on-road or in more urban areas, you may be able to save additional dollars by choosing a 4×2 option.
NOTE: If you need more compartment space, consider a dual rear wheel truck which will typically have deeper compartment space on the body (14" on SRW and 20" for DRW)
There are many factors to consider when deciding between a gas engine vs. a diesel engine. Things like cost, power needs, fuel efficiency, PTO needs, idle frequency and maintenance come into play when making the choice.
NOTE: Most chassis manufacturers and truck body upfitters don't install service or utility bodies on half ton or smaller trucks. In most cases, the remaining payload after installing the body would be minimal and it will more than likely void the chassis warranty.
POPULAR OPTIONS FOR YOUR SERVICE OR UTILITY BODY
Power Locks – Increase productivity and security with the touch of a button. Power locks give your work vehicle the automotive-like convenience of being able to lock all compartments with a key fob, rather than locking them individually.
Compartment Bins – While a service or utility body creates a level of work organization for larger items, inner-compartment bins add even more small-item storage potential.
LED Compartment Lights – Your work doesn't wait until the sun rises, nor is it always complete by sundown. With LED compartment lights installed, you can work easier when the days start early and run late.
Master Locks – Another option for additional security and convenience, which can be used with or without power locks, is a master locking system. Master locks are slides located on the back of the rear compartment that, when engaged, lock all compartments on that side of the body.
Mechanics Drawers – You can't just toss your valuable tools inside of a compartment and call it good. While a tool bag might get it done for a small number of your tools, sometimes you need a bit more storage. Carry all of your vital tools everywhere you go with a mechanics drawer inside your service or utility body.
Auxiliary Lights – Carrying around a flashlight to light up your work scene isn't ideal. Free up your hands and have some auxiliary work lights installed on the outside of your service or utility body for maximum visibility.
Material Racks – A material rack is an addition that makes use of external space on your body. Being able to store ladders and materials externally frees up important cargo area space on your vehicle.
Sprayliner – Protect your cargo area, bumper or tail shelf, while providing a bit of extra grip, with sprayliner. This material is becoming more popular as an option for added protection and safety.
Cab Guards – Create a safety barrier between your cargo and you. No matter how secure you think your cargo may be, accidents can happen. That's why it's important to protect your rear window and, more importantly, yourself with a cab guard.