It's one of the more unique upfits we've seen in recent history. Sean Witt's 1964 Chevy C10 Service Body is a real head-turner.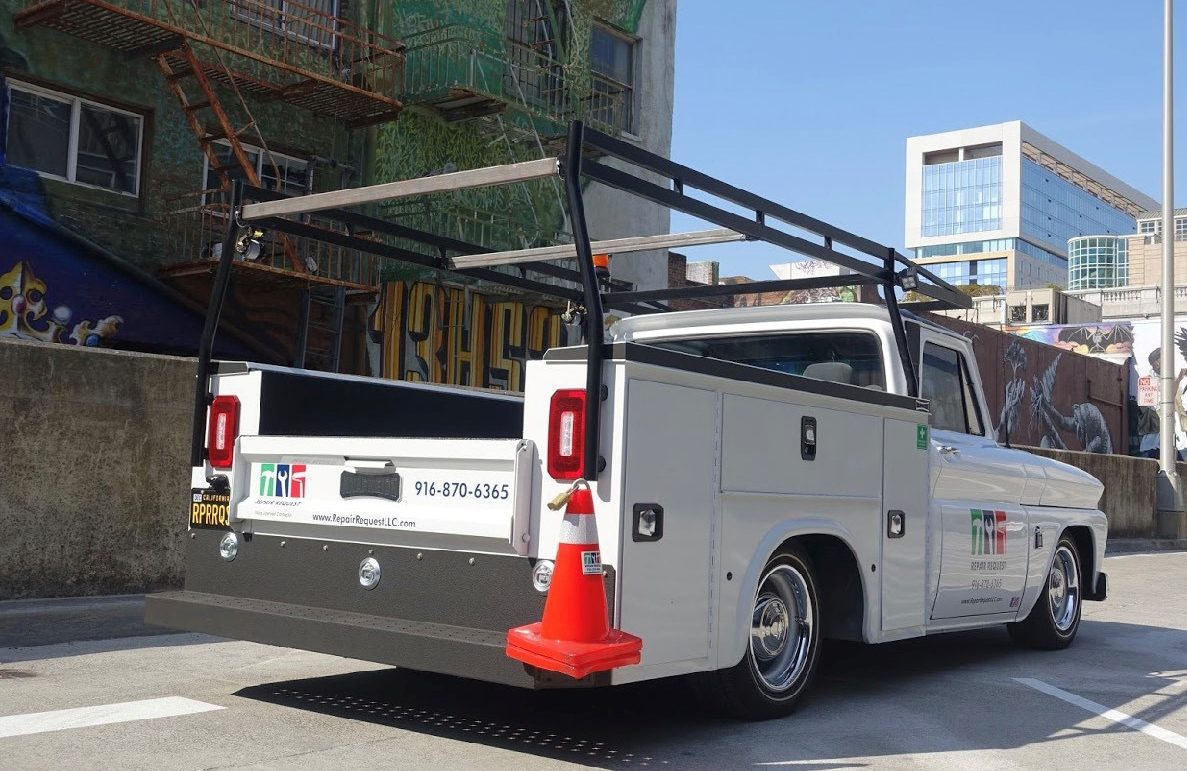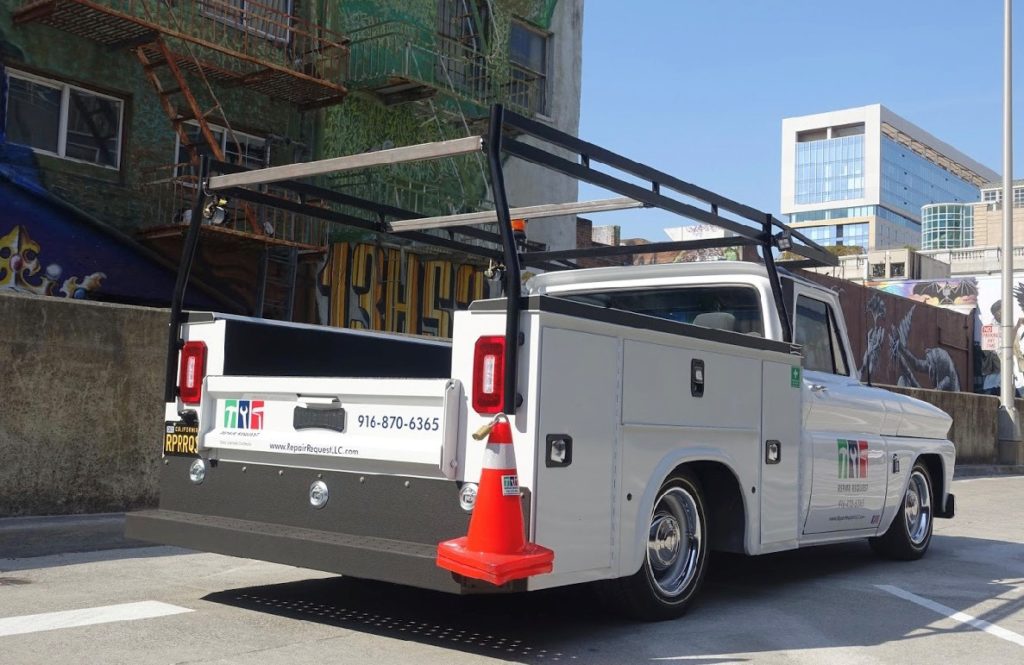 Witt operates Repair Request, LLC, a professional handyman service, in the Elk Grove, California area. His profession and his passion for classic vehicles led him to the restoration of his truck, which is used both for work and as a daily driver.
The '64 isn't Witt's first restoration project.
"When I turned 16 in 1987, I received the unexpected gift of a farm truck that had sat out in the field for many years," he recalls. "That truck was a 1965 Chevy C10. The vehicle was not drivable and needed a total overhaul. The blood, sweat, and tears I put into that vehicle over a year's time created an unbreakable bond and started my addiction to C10s. I still own, drive, and work on that original C10 33 years later!"
Witt's penchant for Chevy's C10 series made for any easy decision when the time came for him to find a vehicle ready to take on the workload of his business. He knew he wanted a '64-'66 C10. But the odds of finding a service body on an existing C10 were the equivalent to the old adage of finding a needle in a haystack. However, one large piece of the puzzle quickly fell into his lap.
"As luck would have it, a friend put [a 1964 C10] up for sale that had a freshly rebuilt motor and straight body with next to no rust," Witt says. "The game plan was to locate a service body for it, repaint it, and customize it for my needs."
Witt purchased the truck and soon began researching ways to upfit the classic ride with modern functionality to meet his daily needs.
"I started looking at newer service bodies and tried to figure out how to chop a long bed service body to fit a short bed truck," he recalls. "I realized that the amount of time and money it would take to customize the long bed service body would be prohibitive. I decided I would have to find a company that made a new service body to fit my short bed."
But Witt's results were coming up short.
Enter Knapheide
"After calling local dealers, I was told that either they did not make a short bed," he says, "or that there was no guarantee the service body would fit my vintage truck. Finally, when I contacted Knapheide in Tracy, California, they referred me to Scott Stiles who performed custom work on Knapheide service bodies."
At first, Scott, who is responsible for engineering and special projects at Stiles Truck Body and Equipment, had his doubts about the ability to pull off such an upfit.
"I thought that it would be awesome if it could be accomplished, but I had doubts about whether the chassis dimensions would work out," recalls Stiles. "But, my initial conversation with Sean led me to believe that he was serious and had comprehensive mechanical know-how."
A great deal of planning and subsequent work goes into a custom build, particularly from the perspective of the distributor. Stiles says one of the most difficult elements of a special project such as this is the amount of time required to accomplish everything. From designing, quoting, and the build time involved, a lot of patience is required from both the upfitter and the end user. Despite that, Stiles was confident they were the right people for the task at hand.
"We have been customizing truck equipment to fit the needs of our customers since we opened in 1984," he says. "We have a reputation in the industry for tackling jobs that others don't want or can't do."
In conversations with Stiles, Witt sent a concept drawing with important information and specs about the build to give him a better idea of what he was envisioning.
"After a few days, Scott let me know what he found to fit and I ordered it," says Witt. "Many props to Scott for his endless calls and going through multiple bodies to find the right one. And then the multiple calls [from me] of, 'is it being built?' and 'is it on its way?'"
Preparation
While he waited for his custom Service Body to be built and shipped, Witt prepped the cab and chassis for the impending installation.
"I sold the original bed off the truck, notched the truck's frame for more clearance for the axle, did the body work to prep the cab for paint, and had the body painted GM Summit White," he says.
Following those preparations, the Service Body arrived in Turlock, California. And, to Witt's surprise, the installation of the Service Body went far more smoothly than he had anticipated.
"We had the whole process down so precisely that it only took about an hour to get the Service Body mounted to the truck," Witt recalls.
Turning Heads
"When I'm driving down the street, people are constantly giving me head nods or honking at me in approval," he says.
Witt says the truck also brings about nostalgic, poignant memories from others.
"At one job, a woman was so happy about the memories my truck brought her of her father," he recalls, "she gave me a $50 tip!"
The admiration of the truck extends to digital avenues as well. Witt's C10 is regularly the subject of social media posts, including Knapheide's social pages, where his truck is one of the most popular posts in the company's social media history.
On the street or online, Sean Witt's 1964 Chevy C10 Service Body is a truly unique piece of living history.
View the Gallery