Utilities and Municipalities have many different applications that call for a wide variety of work trucks and equipment. They keep the bare necessities and basic infrastructure operating including power, water, sewer, roadways and more. Without them, the normal day to day life would cease to exist. Use this guide to help identify the right work truck for your utility or municipal job.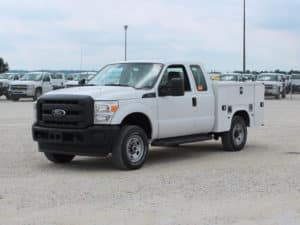 Utilities and municipalities commonly rely on service bodies to organize and securely store their tools, parts and equipment. Stepping up from a traditional pick up bed to a service body can increase efficiency for utility and municipal workers. Pull up to the job, step out of the cab and quickly access the tools you need from the job without ever climbing into the bed. With a service body, you still retain the open bed space for large or bulky materials but you gain dedicated storage compartments.
Need some additional features and options for your service body? Lucky for you, service bodies can be fully customized and contented based upon your jobsite needs. These are some of the most common options chosen by utilities and municipalities.
POPULAR OPTIONS FOR SERVICE BODIES
Mechanics Drawers – Hand tools, power tools and more can be better organized within mechanics drawers for quick retrieval.
Master Locks – Sometimes, the job takes you to a high crime area. Master locks create an additional layer of security for your tools and equipment.
Headache Rack – Store large equipment or bulky materials in the open bed space? Keep occupants in the cab safe by placing a barrier between the service body and the cab.
E-track – Secure and strap down the items in the open bed space.
Power Locks – Operators are used to walking away from the cab and with the push of a button, lock down the doors. Why not have that same capability and convenience with the doors of a service body?
LED Compartment Lighting – Utilities and municipalities get called to work at night. Stop fumbling around looking for tools in the compartments and utilize LED compartment lights.
Utility bodies employ side compartment storage similar to a service body but feature a fully enclosed cargo area. Compatible with truck and van chassis, utility bodies can be configured in different body lengths and heights to fit your storage needs. Conduit chutes provide a dedicated storage space for longer items to keep your cargo area floor open. Keep your utility and municipality crews from constantly climbing into the back of a pick up or van to retrieve tools by switching to a utility body.
Add options and accessories to your utility body for better functionality for your work. Whether you need additional storage, security or convenience features, utility bodies are a versatile work truck ideal for utility and municipal applications.
POPULAR OPTIONS FOR UTILITY BODIES
Material Rack – Store ladders or long materials on the top of the body or open side panel, out of the way and secure.
Liftgate – Take the back breaking and dangerous lifting work out of the job with a liftgate.
Mechanics Drawers – Nearly every job call for hand and power tools. Store them more efficiently in mechanics drawers so you can find what you need quickly.
LED Compartment Lighting – So you can find what you need in the compartments when the sun isn't shining.
Hardware Bins – Keep small parts, fasteners, etc organized in parts bins so you aren't spending time searching for what you need.
Cargo Area Crane – Lifting heavy items in and out of the cargo area can create safety issues, utilize a compact cargo area crane to lift equipment or parts in and out of the vehicle.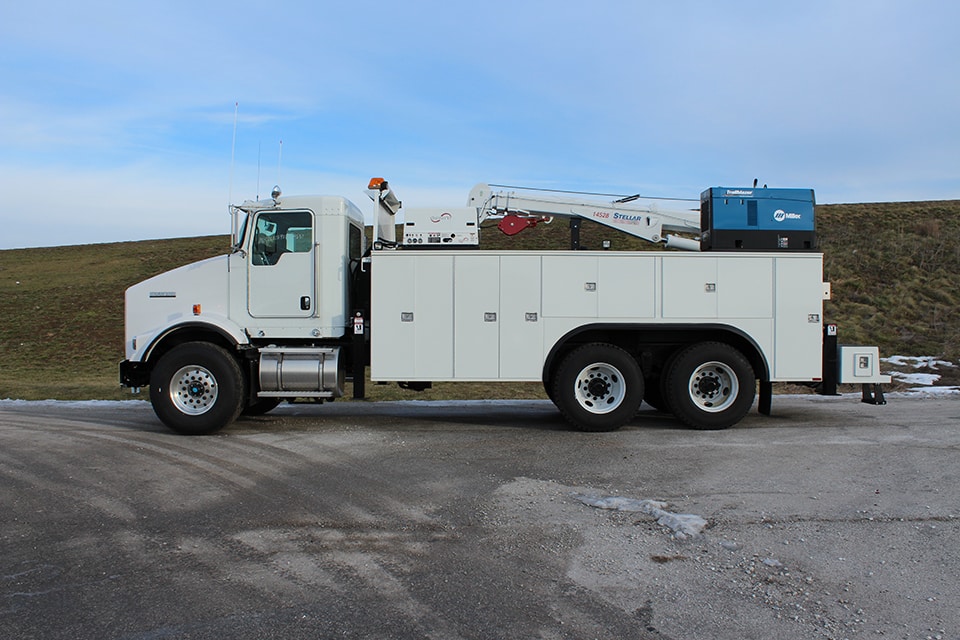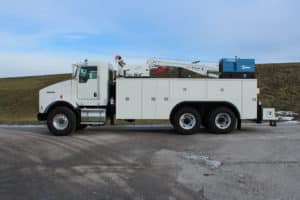 Sometimes, equipment in the field goes down or heavy components need moved. Mobile service and repair is a necessity for many utility and municipal operations. Mechanics trucks provide that workshop on wheels with all the needed components in one, highly functional package. Choose from various crane sizes, body configurations and more to form the ideal field service truck for your job.
Mechanics trucks can be heavily customized to fit the repair and service jobs it performs. While they are a large investment, mechanics trucks have the ability to create ROI quickly if set up correctly. Don't skimp on options, check out some of the more popular options to make your next mechanics truck even more productive.
POPULAR OPTIONS FOR MECHANICS TRUCKS
Cranes – Telescopic cranes are available with max lift capacities on models ranging from 3,000 – 14,000 lbs. Use your crane often, best to stick with a fully hydraulic crane. Seldom use the crane, consider an electric or electric over hydraulic crane which is more cost efficient up front.
Mechanics Vise – Need to clamp down materials or parts to perform repairs? A mechanics vise plate can be mounted to the work surface bumper.
Compressors – Commonly use air tools on the job? Choose from various CFM ratings and rotary screw or reciprocating models best suited for your tools.
Lube Skid – Changing the fluids on your ag equipment like tractors or combines is an important factor to their longevity. An onboard lube skid allows you to carry oil and other important fluids to your equipment to minimize maintenance downtime.
Welders – While mobile welding or cutting is not always needed by all mechanics, many rely on welding equipment in the field to get the job done.
Grease Drum – There are a lot of moving parts on farm equipment. Much like a lube skid, a grease drum is focused on preventative maintenance and minimizing downtime by servicing products in the field.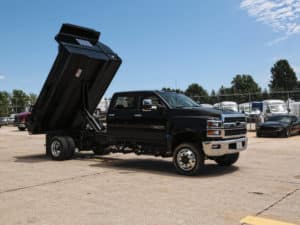 Municipal workers throughout North America rely on dump bodies for Class 3-5 chassis to help move mulch, rock, dirt and more. Drop down sides enable easy forklift loading and unloading out of the cargo floor. Dump bodies also provide the versatility to add a plow and spreader to switch operations to snow removal in the winter.
Need additional functionality out of your Dump Body? Lucky for you, Dump Bodies can be customized to better fit your job and make you more efficient.
POPULAR OPTIONS FOR DUMP BODIES
Tarp – Keep your bulk materials from flying out of your dump body with a manual pull style tarp.
Storage Boxes – Need a lot of storage for tools and equipment? Add a storage pack in between the body and cab. Need a little storage? Add an underbody toolbox.
Cab Protector – Upgrade to a full cab protector and create an additional storage area on top of your cab protector and out of your dump body.
Receiver Hitch – Hauling a trailer with your equipment? Add a receiver hitch for easy hauling.
Metering Chute – Using a wheelbarrow to transport bulk material from your truck to the jobsite? A metering chute enables you to perform a controlled dump of material into a wheelbarrow without shedding and wasting material.
Snowplow & Spreader – Transform your spring and summer landscaping truck into a winter snow removal truck by adding a spreader and snowplow, keep working all throughout the year.