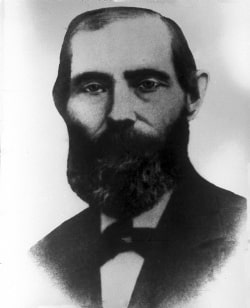 Herman Heinrich Knapheide was a true craftsman when it came to wagon building. From his home in Germany, Heinrich traveled to New Orleans and up the Mississippi River settling in Quincy, Illinois. In 1848, Heinrich founded the Knapheide Wagon Company and the company prospered as a result of Westward expansion.
Heinrich spent 42 years at the helm of the business, perfecting his wagons and selling to farmers, miners and pioneers on their expeditions out West. He hired skilled German wheelrights and blacksmiths and his manufacturing process began to evolve. Heinrich contracted with local mills to mass produce components of his wagons such as axles and spokes and purchased iron and steel parts from fabricators. Most of Knapheide's wagons were handmade and of very high quality. Due to the high quality of his products, Knapheide began to guarantee his wagons with a warranty. Knapheide soon developed a reputation outside of Quincy and business began to expand.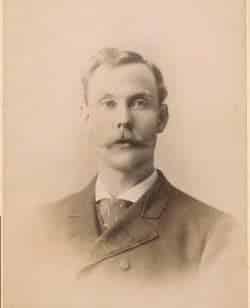 In 1890, Henry E. Knapheide assumed the role of President at Knapheide. Henry worked by his father's side from an early age and took over when he was only 35 years of age. Although young, Henry's ambition took the company to new heights. Henry incorporated the company in 1893, invested in steam-powered saws, presses and planers, maintained a respectable inventory, and established channels of distribution into South America and Africa.
Even in mass production, consistently high quality was important to Henry. Knapheide bolstered its line up by offering over 30 different catalog models, which made Henry very proud. Custom built orders were also filled by Knapheide. Knapheide began to be known as a wagon company with high craftsmanship and specialization.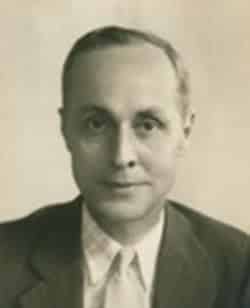 The automobile came of age during the 3rd Generation of family ownership and Harold W. Knapheide was ready for it. In 1910, Knapheide installed its first wagon body on a Ford Model T chassis marking the beginning of a new era. This period was very prosperous, but short-lived with the 1929 Stock Market Crash and the Great Depression which shortly followed. In 1932, the company showed how resilient it was by surviving off of just $14,083.65 in sales. Harold assumed the role of President during this time.
Harold began stressing the importance of knowing your customer as different customers had different product needs. Harold's mild mannered personality made him very accommodating to all Knapheide's customers. His success was not only knowing his product, but the people who bought his product. Knapheide saw tough times during the Depression, at times getting more revenue from repairing trucks and wagons than selling them. But the company did what it had to do to survive and survive they did. The company was renamed in 1937 to The Knapheide Manufacturing Company and was prepared to meet the modern world head on.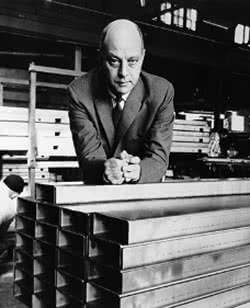 Harold W. (Bud) Knapheide, Jr. joined his father at Knapheide in 1938. Bud was a self-taught engineer and had plans to expand and modernize the manufacturing operations. By the mid 1940s, Bud had developed and produced all steel-frame truck bodies. Bud's innovative product line was targeted to the agricultural market through an expanded distribution network. By 1960, nearly every farmer in the Midwest knew the Knapheide name.
As the company began experiencing increased demand, they soon outgrew their manufacturing facility on 6th Street. In 1954, Bud opened the West Quincy facility to increase Knapheide's manufacturing and production capacity. The farming boom in the 1970s saw an even bigger increase in demand for truck bodies, and during that time Knapheide was the largest producer of farm truck bodies in the country. While Bud was quite pleased with his company's position, he also realized that all markets were cyclical. In 1968, he gave his son, "Knap", the project of developing and marketing the new service body product. Bud understood the importance of diversifying the company to decrease risk which would pay off for future generations.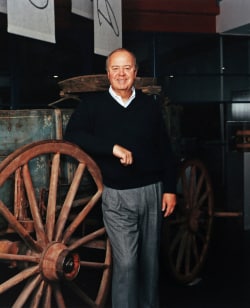 Harold W. (Knap) Knapheide III was tested early in his career. In 1973, Knapheide's West Quincy facility was severely flooded by torrential rainfall. Knap's relentless effort to overcome the flood instilled a high morale among the employees at Knapheide and soon the company was back on its feet. Knap was made President of The Knapheide Manufacturing Company in 1978, a time when service bodies became a contributing product to the company's success. Knap's ability to tap into this new market came forth by a deep understanding of his customers and their needs. During this time, Knap also pioneered both targeted and creative marketing initiatives that led the company to great success.
Knap was tested yet again in the 1980s when the agriculture market crashed, and then again in 1993 when the West Quincy facility was completely engulfed in flood waters. Again, it looked like Knapheide was defeated by Mother Nature, however Knap made a decision that had a profound impact on the company's future. Knap's decision was to construct a new 480,000 square feet, state of the art truck manufacturing facility. Since moving to the new facility, Knapheide has continued to improve their customer service, manufacturing processes, design technology, team building, distribution networks and product lines. Over the past five decades Knap has been persistent about developing the most important characteristic of a successful business, human relationships. Knap measures the success of the company not by short-term profits, but by the long-term relationships that have been cultivated over the years.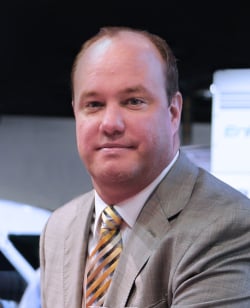 Harold W. (Bo) Knapheide IV, the sixth generation, began working at the company in 1999 and became President & CEO in September 2018. Since he has been with the company, Bo has worked in various positions in production, shipping, sales and marketing. With a focus on continued growth, expansion and new markets, Bo leads the company forward in its commitment to Never Settle.