Every vocation has them. They are the long or bulky items that you just aren't sure how to store in the most efficient manner. You could throw that 8' conduit pipe on the cargo floor, sure it would roll around during transport and you may trip over it trying to get to something else but where else would you put it? Regardless if you're a plumber, electrician, contractor, HVAC tech, lineman, or more, you have options to efficiently store long and bulky items.
Familiarize yourself with the most common options available to store long and bulky items on your next Knapheide truck body, from service to utility to platform bodies.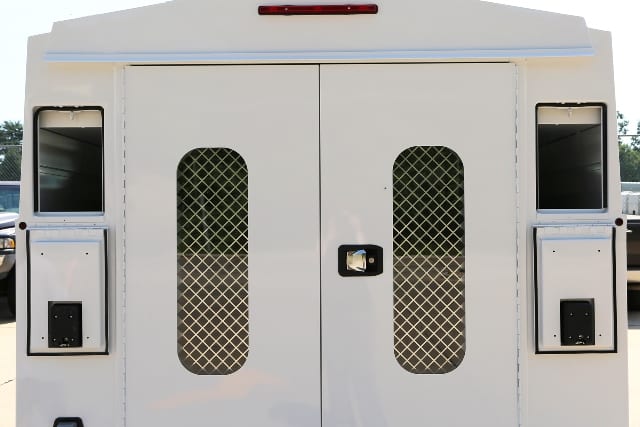 Conduit Chutes
Conduit chutes, standard on the KUV and KUVcc, is an ideal storage solution for conduit, pipe, and even smaller circumference HVAC duct. Stretching the full length of the body, you can easily fit 8' or 10' lengths of conduit or pipe (dependent upon overall body length). Conduit chutes are quickly accessible from the rear of the body and feature a drop down compartment door for easy loading and unloading. Conduit chutes are lockable, so thieves that sneak onto your jobsite can't get their hands on those pricey copper pipes.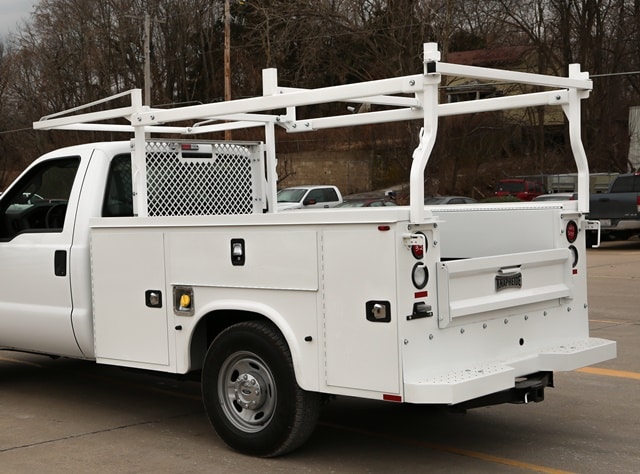 Material Racks
The commercial vehicle industry has a wide variety of material racks available for your next upfit. Material racks are versatile and can accommodate storing many different types of material and equipment. Pipes, lumber, sheet materials, and ladders are all common supplies and equipment that can be found on top of a material rack. With material racks, always remember to understand the maximum load capacity and distribute the weight as evenly as possible on the cross members. If you utilize a forklift to load the materials, make sure you select a rack that was designed as "forklift loadable". Always secure your load to the material rack which means your material rack of choice must have enough tie-downs integrated into the design.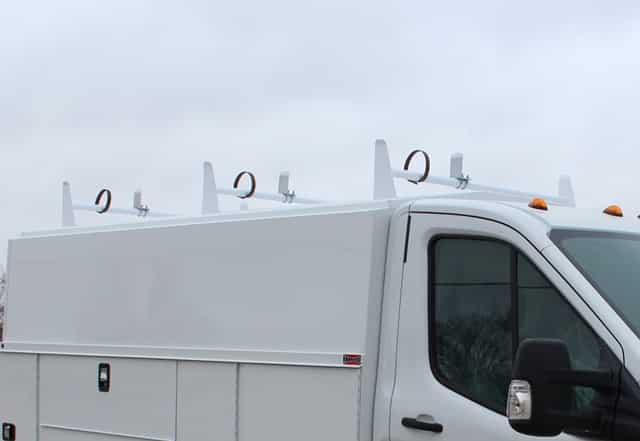 Ladder Racks
Top or side mounted, clamps or tie-downs, there are an abundance of ladder rack options for your truck body. From step ladders to extension ladders, a ladder rack exists today to accommodate the storage of your ladder. If your ladder is long and heavy, choose a drop down style or side mount ladder rack for better ergonomics. The more you access the ladder throughout the day, the easier it should be to access and store. If your operating environment experiences a lot of snow and ice and your vehicle has an interior cargo space that is long enough to store the ladder, consider utilizing ladder hooks that mount to the top of the cargo interior roof or side interior hooks.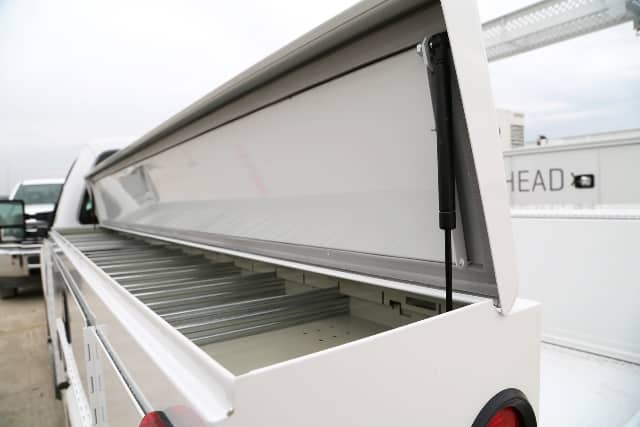 Flip-Tops
Flip-tops can dramatically increase the storage capacity on a service body. Especially popular on the west coast region, flip-tops have the capability to be divided into smaller spaces for parts and hardware or can be utilized for much longer items by simply removing the dividers. Extended levels, pry-bars, chains, and more can easily be stored in the long flip-top compartment. This additional space enables you to secure those longer tools and equipment you may have previously placed in the open cargo area of the service body.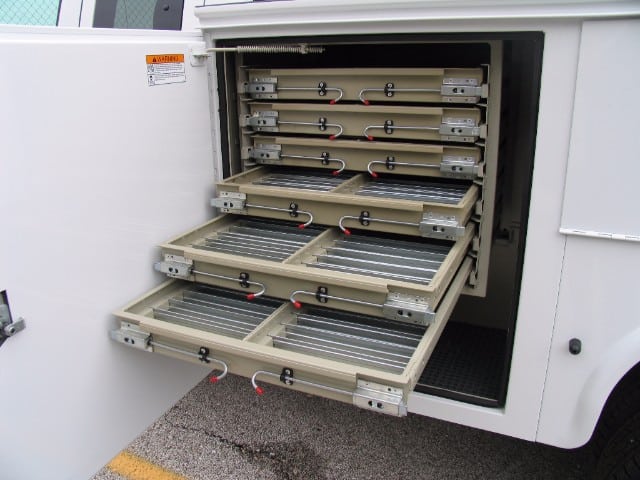 Transverse Compartment
A transverse compartment in a service or utility body combines the two front side compartments into one and stretches the full width of the body. This can create an additional 49"-54" of compartment depth (depending upon the configuration of your body) and allow you to store long or bulky items within the transverse compartment. While some place long pull-out drawers for small parts and hardware, others choose to leave the compartment completely open for long hand tools or bulky equipment. Many mechanics will even mount a welder within the transverse compartment, keeping it locked down instead of mounting it on top of the side pack of the body and exposed to the outside elements.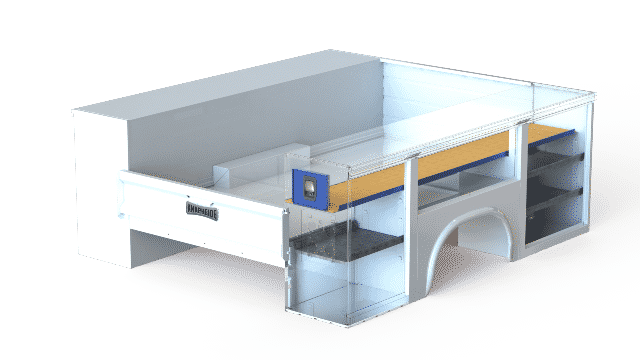 Hotstick Box & Rear Access Compartment
A hotstick box is a must in the power generation and distribution industry. Although originally intended for linemen, hotstick boxes can be utilized for virtually any long tool. Typically, hotstick boxes are mounted on top of the side pack of the body with a lockable rear access door. It is an add-on option that doesn't eat up any space within the side compartments. Similar to a hotstick box is the rear access compartment. However, instead of on top of the side pack, a rear access compartment has a long shelf that extends across the top interior space of the side compartments. This option provides the ability to store longer items and only sacrifices a small portion at the top of each side compartment.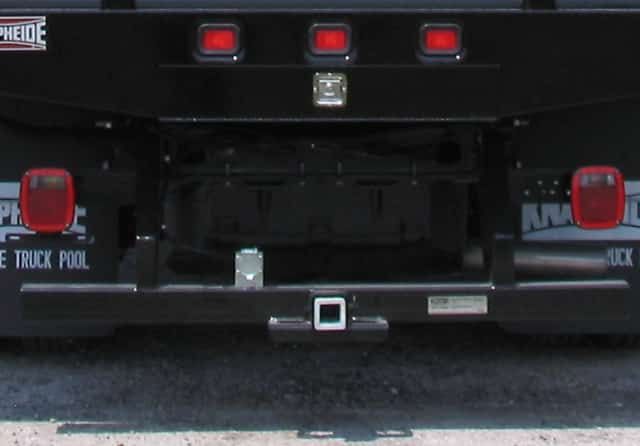 Underbody Storage Compartment
So you've maxed out the storage capacity everywhere on your truck body so what's left? Why not use the space under the floor for those longer items? An underbody storage compartment is great for long, narrow items that you need to secure. Especially popular on platform bodies, underbody storage compartments typically stretch almost the entire length of the body and can be accessed via a lockable rear access door.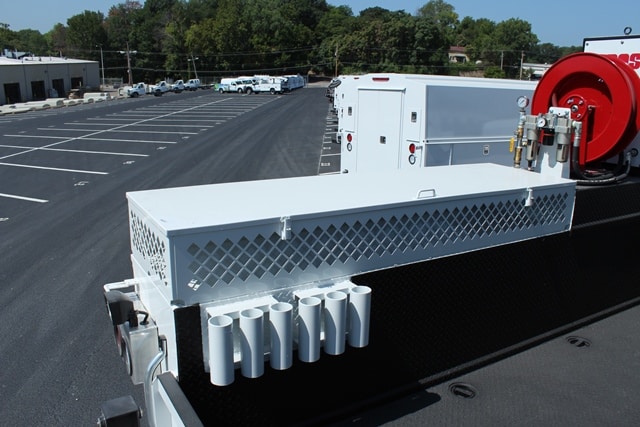 Shovel Box
So you have shovels but nowhere to place them, they bang around the back of your service body causing dents and dings all over. Enter the shovel box, easily installed on top of your side pack and a perfect place for those shovels. The sides are constructed of punched metal so the dirt that sheds off doesn't pile up in the box. Throw on a padlock and you not only have dedicated storage for your shovels, you have secure storage as well.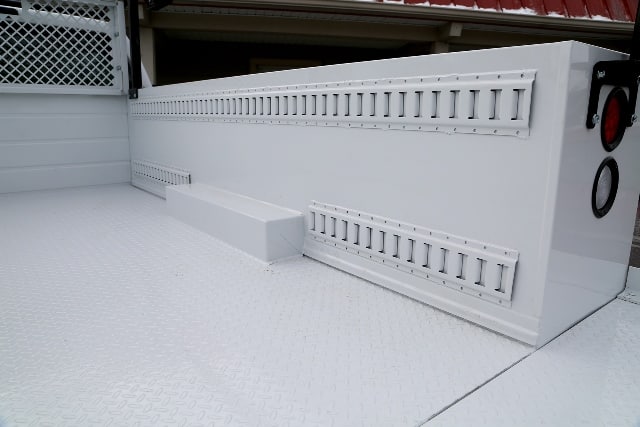 E-Track
E-Track is an extremely versatile storage option for you service or utility body. Installed on the side interior of the cargo area, E-track can accommodate a wide variety of long or bulky items. A wide variety of E-track attachments are available to customize to your storage needs including ladder hooks, ring holders, spare tire retainers, tailboard channels and single or double tank holders. E-track can be one of the most cost-effective storage solutions.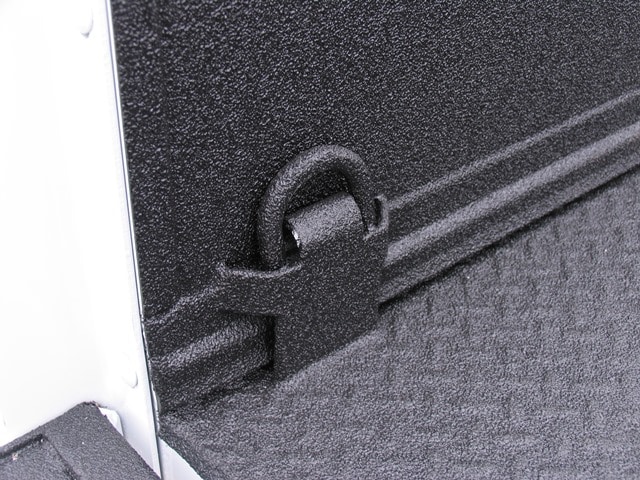 D-Rings
Bulky items are not only difficult to store effectively, in many cases they are also very heavy which can present a safety issue. Imagine going down the highway at 60 miles per hour with a water heater in your cargo area and you are forced to make a hard stop to avoid an accident. If that water heater isn't secured down it becomes a deadly projectile coming right through your back window. D-rings enable you to strap down large and bulky items and provide an additional layer of safety for you and the individuals around you on the roadways.
---
View The Industry's Best Truck Bodies