Safety is everywhere on jobsites.  Regulations are put in place by government agencies to minimize the risk of injuries, equipment has a laundry list of safety features, and laborers protect themselves with safety glasses, ear plugs, hard hats, steel toed boots, high visibility clothing, among many other things.  Work vehicles have safety features that Henry Ford couldn't have imagined in his wildest dreams.  Seat belts, air bags, back up cameras, lane and blind spot sensors, bluetooth, traction control, autonomous braking, adaptive headlights, parking assist, tire pressure monitors, the list goes on and on, all designed to keep the driver and occupants of the vehicle safe.
So why in 2013 were there over three million injuries on the jobsite, of which over half required missed work?*  The current median age in the United States is 37 years old, by 2050 experts predict it will increase to 41 years of age.**  An aging workforce is a great concern as it relates to jobsite safety and injury prevention.  Baby boomer laborers that for decades put in hard work are now paying the price with their knees, hips, back, and many other musculoskeletal disorders (MSDs).  Not all work injuries are related to the aging workforce, however for many businesses our aging workforce is a determining factor when purchasing equipment and vehicles.
'Ergonomics', a word not historically heard in the commercial vehicle industry, has been a hot topic for several years now.  Business owners understand an aging workforce is highly susceptible to those revenue-losing injuries that require time off.  In order to combat the jobsite injuries, many have turned their attention to the commercial vehicle they drive and the equipment they use, but many times end up either overlooking the body or downplaying its importance.  The back of the commercial vehicle (cargo area or body) is commonly called the "business end" in the industry for a reason, much of the work day is spent there.  Accessing tools and parts, utilizing vehicle mounted equipment, climbing in and out or on and off, goes on all day, every day.  Climbing in and out of a truck body alone can wreak havoc on knees and backs if spec'd improperly, especially if a worker has been performing these repetitive movements for decades.
Review the accessories and options listed below to get some ideas on how to make your next commercial vehicle safer for your workforce.
---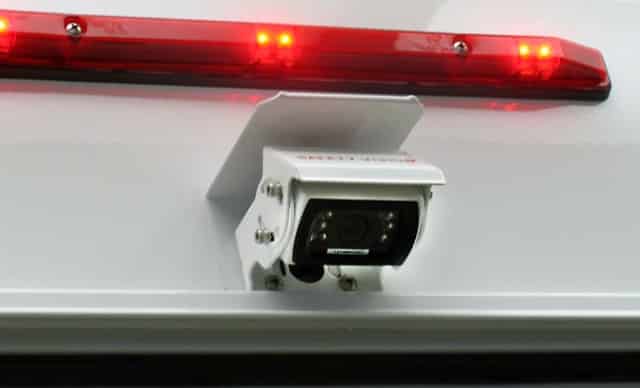 Back Up Alarms/Rear View Cameras – With large commercial vehicles, visibility can be an issue, especially with what's directly behind the vehicle.  The longer and higher off the ground the vehicle is, the more difficult it is to see what's behind you.  Back up alarms are a great way to audibly inform people around you that you're reversing and need space to do so.  Pairing a backup alarm with a rear view camera provides the highest level of safety for backing up.  In fact, the National Highway Traffic Safety Administration (NHTSA) will require all vehicles built on or after May 1, 2018 to have a rear view camera.
---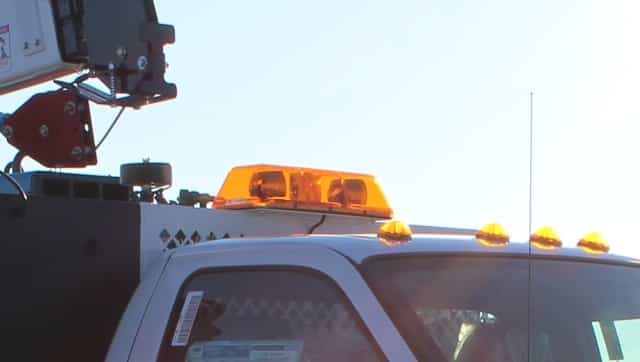 Auxiliary/Amber Lighting – Since we are already on the subject of visibility, why not mention auxiliary lighting.  Auxiliary lighting is utilized by many applications including utilities, road construction and municipality.  Having an amber beacon light or rear strobe lights make it easier for others around to see the vehicle, especially in inclement weather or at night.  Any commercial vehicle that works in or near traffic and other equipment should have some form of auxiliary lighting to increase visibility.
---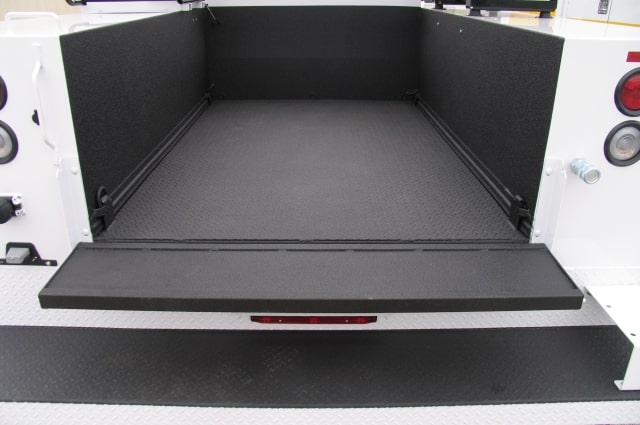 Liner – Spray liner has been widely utilized within the cargo area of pick-up trucks and has now become a standard for many commercial truck applications, most commonly mechanics trucks.  The benefit of this non-slip surface includes both safety for the user and increased durability for the body.  The cargo area, inside of the tailgate and bumper are all high-traffic areas where liner can be applied on service bodies, utility bodies and mechanics trucks.  Liner can greatly minimize the risk of slipping or falling, especially in regions that receive sleet or snow.
---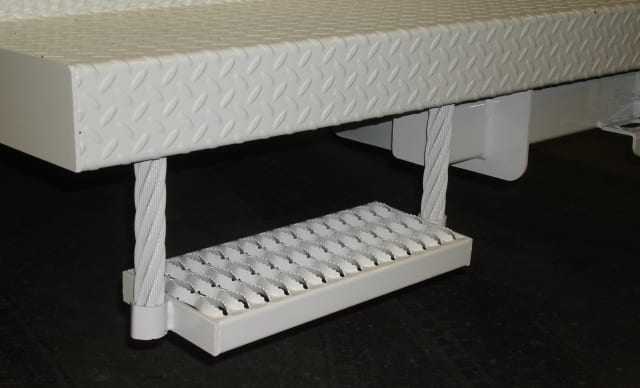 Access Steps/Grab Handles – On most commercial vehicles (especially four wheel drive trucks) there are running boards installed by the OEM to make entry and exit from the cab easier and safer.  The same feature can be applied for safer entry and exit from the body.  Access steps can be installed on the bottom of the rear bumper cutting the step height in half from the ground to the bumper.  To further increase entry and exit safety, grab handles can be installed on each rear end panel of the body, adding additional points of contact.
---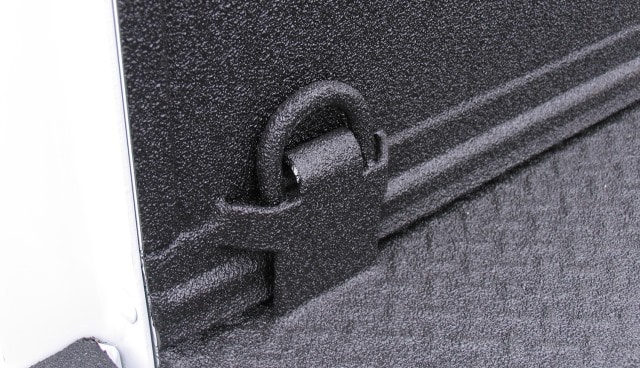 Cargo Tie Downs/Cab Guards – Many times heavy and/or oversized cargo needs to be transported to and from jobsites.  Regardless of if it is a service body, utility body, platform body, or mechanics truck, cargo tie-downs can be installed to secure the cargo to the floor and prevent unwanted load shifting.  In addition to cargo tie-downs, a cab guard can be a matter of life and death in the event of a collision.  Cargo shifting forward and slamming into the cab can cause great harm to the driver and any occupants.  A cab guard provides a protective barrier for the user.
---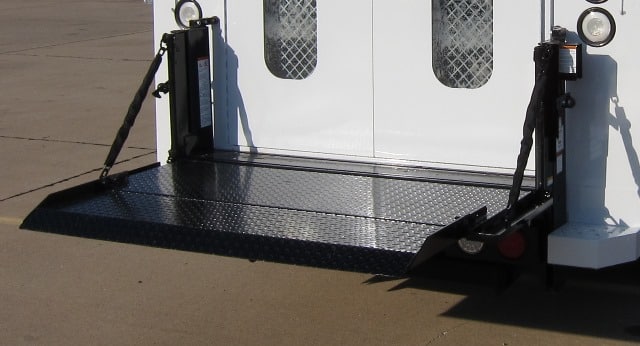 Liftgates/Light Cranes – Back injuries are one of the most common jobsite injuries and most often lead to time off of work for the victim.  Heavy lifting, once done almost exclusively by man, can now be done by machine.   Now, liftgates can easily lower cargo from the loadspace to the ground and vice versa with minimal effort from the user.  Light duty cranes can do the same while also enabling the user to precisely place heavy components outside of the work vehicle.  If you do have to lift heavy objects on the job, OSHA recommends never lifting anything alone that is more than 50 pounds.  If you do need to lift an object more than 50 pounds, allow a co-worker to help and keep the lift in the "power zone" (mid-thigh to mid-chest) position.
---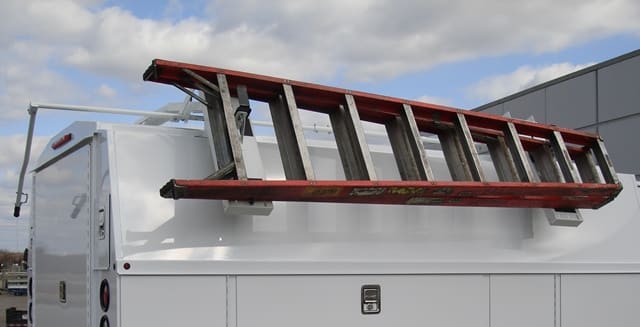 Ladder Racks – Enabling the user to easily access all the tools and equipment from the vehicle plays a huge role in ergonomics.  If the user has to frequently reach high places or bend over to retrieve equipment, then the vehicle has poor ergonomics.  With enclosed utility bodies or cargo vans, long ladders are normally stored on top of the vehicle.  A drop down ladder rack (either power down or manual down) enables the user to retrieve the ladder without excessive back strain and overhead lifting which minimizes the risk of injury.
---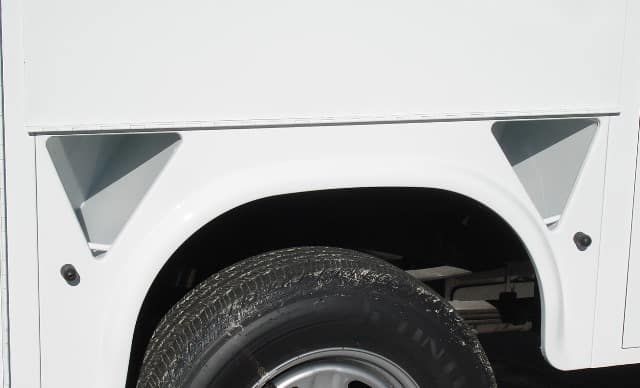 Wheel Chocks – Placing wheel chocks beneath the wheels to prevent unwanted vehicle movement should be practiced whether or not the vehicle is on level ground as many workers spend the majority of their day around the work vehicle.  A vehicle that does not have wheel chocks deployed, or properly deployed, can move unexpectedly causing injury to individuals located around the vehicle.  Including wheel chocks with commercial vehicles prevents these dangerous situations.  Enable your users to easily store the wheel chocks by spec'ing a body with wheel chock cutouts located in the rear fender area on both street and curb side.
---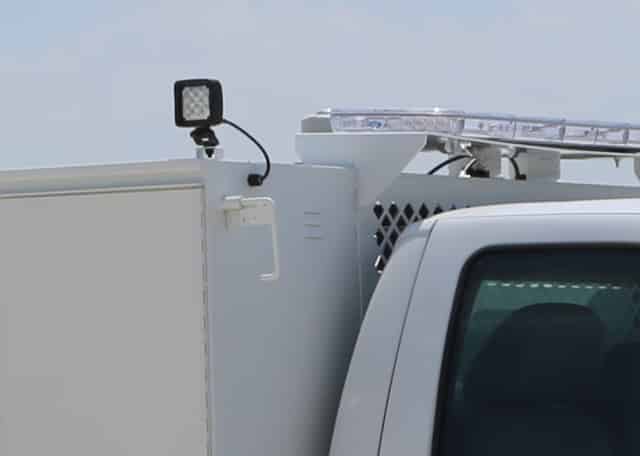 Louver Vents –Carrying bottled gases (acetylene, oxygen) or other combustible materials (gasoline, paint thinners, oils, etc.) can be extremely hazardous if the compartments they are stored within are not vented properly.  One spark set off by metal on metal contact (think opening the compartment door) can ignite any fumes that have built up in a non-vented compartment.  Louver vents allow these flammable or combustible fumes to exit the compartment and mitigate the risk of explosion or fire.
The safety of your workforce is vital to your company's productivity, success and longevity.  Implement the right safety options and accessories into your work vehicles and breathe easier every morning as your employees head out safely to the field to tackle the next job.
Receive A Quote For Your Next Work Truck 
---
* Bureau of Labor Statistics (BLS) Press Release titled "Employer-Reported Workplace Injuries & Illnesses – 2013
** 2010 Census Bureau data and prediction
---
View The Industry's Best Truck Bodies