Contractor Grade Dump Bodies
The Knapheide Drop Side Contractor Body has been relied upon for years by contractors across the nation to handle heavy-duty jobs. These dump truck bodies have everything a contractor needs including drop sides with cheater boards for increased load capacity, a double-acting tailgate for both drop down and spreader applications, behind the cab trip lever for quick access to dumping operation and an aerodynamic tapered bulkhead for improved visibility. Standard body lengths stretch from 12′ up to 18′ for one ton up to medium-duty chassis. Carry up to six cubic yards of bulk material in one load with a Drop Side Contractor Body.
Complete our online quote request form and we'll help you get in touch with the right Knapheide distributor or dealer to meet your needs and get you a vehicle quote.
Search local commercial dealer inventory that's ready for work. This is the fastest way to get a Knapheide work vehicle.
E-Coat Immersion
Knapheide Bodies are fully immersed in Knapheide's 12-step, electrodeposition prime paint system for superior corrosion resistance.
Toolboxes
Available for Knapheide Platform, Gooseneck, Dump, and Forestry Bodies for additional storage capacity. Above or under body toolboxes available in multiple sizes to fit your application.
Knap-Pack
Practical storage solution for Dump or Platform bodies. Choose from straight or tapered design.
Bumper
For Platform and Dump Bodies. Dimensions dependent upon chassis manufacturer. Under ride protection required by law and the ICC Bumper provides this protection. ICC Bumpers not needed when hitch is utilized.
Receiver Hitch
All Knapheide Platforms have receiver hitch options available for your hauling needs/demands. Includes under ride protection.
| Model | Nominal Length | Width | Net Weight |
| --- | --- | --- | --- |
| Heavy Drop Side Contractor Bodies | | | |
| GCDH-120B-P | 12' | 94" | 1943 |
| GCDH-140B-P | 14' | 94" | 2555 |
| GCDH-150B-P | 15' | 94" | 2702 |
| GCDH-160B-P | 16' | 94" | 2848 |
| GCDH-180B-P | 18' | 94" | 3146 |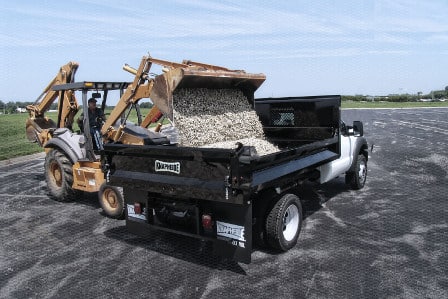 Dump bodies are utilized in many different industries, from hauling aggregate in mining applications to transporting grass clippings in lawn care applications. Dump bodies have eliminated the back breaking work…
READ MORE »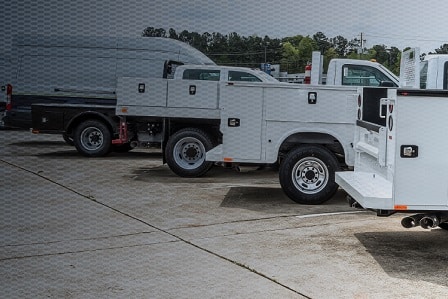 Commercial truck dealers across the nation, from large to small, stock already upfitted work trucks for immediate delivery. So the next time you are in a pinch and need access…
READ MORE »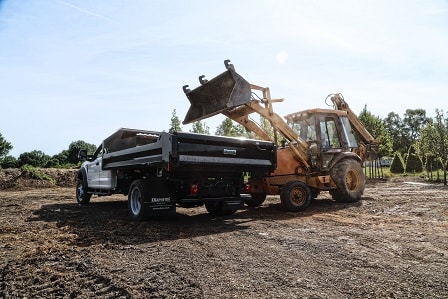 A work truck body with dumping capability, whether it's a dump body, platform, landscaper or something else with a lifting apparatus, can be a life saver. However, the many moving…
READ MORE »