Preventative maintenance is vital for maximum equipment uptime and productivity and a Fuel and Lube Truck lets you get it done on the go.
Knapheide's KFLT1 Fuel Lube Trucks feature a modular design in order to offer customers flexibility with product tanks and components. The KFLT1 Fuel Lube Truck has a 1,000 gallon fuel tank along with various product tank sizes for new and salvage oils, coolants and anti-freeze. Choose an open KFLT1 design for service in warm weather environments or enclosed design in cold weather climates, along with a split or solid rear reel cabinet. Pre-configure a KFLT1 model or let Knapheide custom configure a model for your application. Looking to take your mobile service to a new level? Look no further than Knapheide's KFLT1.
Complete our online quote request form and we'll help you get in touch with the right Knapheide distributor or dealer to meet your needs and get you a vehicle quote.
Auxiliary Lighting
Ideal for low light conditions. Available in large halogen, small incandescent, amber beacon lights, and more to meet your lighting needs.
Product Tanks
Available in a variety of sizes. Able to accommodate different fluids, both new and salvage. Multiple construction materials available.
Split Reel
Designed to divide the reel cabinet into two smaller and more manageable spaces and allow rear entry instead of side access entry. Design employs two smaller aluminum roll up doors that are lockable for security.
Aluminum Mechanics Drawers
Aluminum alloy construction manufactured by C-Tech. Available in multiple configurations. Rated for maximum of 250 lbs. Appearance may vary.
Lube Skid
Available in a variety of configurations, including tanks dedicated to oil, antifreeze, grease (drum) and salvage. Hose reels can be placed in a variety of locations. Tanks are top fill for easy re-fill operation.
Steel Mechanic Drawers
Steel construction available in multiple configurations
Heaters
Installed for proper climate control and working in adverse weather conditions
Shelving Units
Provides increased storage and convenient access to tools, equipment, and other accessories utilized on the jobsite
Enclosure
Encloses equipment for increased security and safety as well as protection from outside elements
Adjustable Shelves
For added convenience and storage of tools, equipment, and accessories. Can be adjusted to fit your particular needs.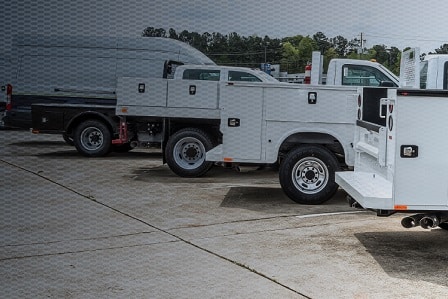 Commercial truck dealers across the nation, from large to small, stock already upfitted work trucks for immediate delivery. So the next time you are in a pinch and need access…
READ MORE »