The popular Knapheide KUV utility van is now also available in aluminum, bringing with it additional advantages over its steel counterpart. Aluminum is a significantly lighter weight material, guaranteeing not only improved mileage but increased payload capability. That means you can save money at the gas pump and haul more equipment and materials than ever before. Because aluminum naturally resists rust and corrosion, you can expect the body to maintain its luster no matter the climate in which you work or the rigors of the jobsite that it experiences.
Investing in an aluminum KUV body for your business is sure to enhance productivity and efficiency. Tools and parts can be accessed quickly on the jobsite from any one of the external compartments. Materials, equipment and other larger items can be stored in the spacious cargo area or conduit chutes. You can customize the storage space however you like to meet your needs.
Complete our online quote request form and we'll help you get in touch with the right Knapheide distributor or dealer to meet your needs and get you a vehicle quote.
LED Lights
Surface mount lighting system features LED S/T/T and B/U, LED strobe option with (8) selectable patterns and built-in reflectivity for additional safety
Nitrogen Gas Strut
Nitrogen strut door retainers
Fender Skirts
TPO fender skirts
Continuous Hinges
Continuous aluminum hinge with stainless steel rods
Automotive Latch
Automotive quality, paddle-activated rotary style latches make opening and closing easy. Low maintenance and stylish, the latches are covered under Knapheide's six year warranty.
Internal Latch Cover
Latch interior cover secures the latch to the door and protects the internal latch mechanisms from being damaged. Appearance may vary.
Interior Light Guards
Interior light guards protect recessed lighting and wiring.
Door Frame Design
Inset door frame design with double tray aluminum doors and neoprene door seals for weather-tight closing
Master Locking System
Locks all compartments on one side with a single device/move. Operates independent of your key locks for added security. Available only on Ford E-Series and GM G-Series compatible models.
Work Surface Horizontal Compartment
Horizontal compartment drops down to 90 degrees and can serve as a flat panel work surface on the jobsite.
Conduit Chutes
Two lockable conduit chutes with automotive style latches to transport copper pipes, PVC, conduit, and longer items.
Door Seals
Triple contact door seals provides protection against the outside elements for your tools and equipment.
Aluminum Compartment Shelving
Street and curb side front vertical compartments contain two adjustable shelves with dividers. Curb side horizontal and rear vertical compartments include one adjustable shelf with dividers. All shelving has a 250-lb. capacity.
Security Ring
Adjustable security ring strikers provide strength, security, and a weather tight seal throughout the entire life of the body.
Rear Cargo Doors
Double panel rear cargo doors lock and seal into the body frame. Doors are constructed of corrosion resistant aluminum and employ slam latches.
Flat Panel Surface
Flat panel surface ideal for applying company logos, graphics, and contact information to create a rolling billboard.
Power Locks-Master Locking System
Power Locks with key fob to lock and unlock compartment and rear cargo doors (Power Locks are standard on KUV models for Ford Transit and Ram ProMaster cutaway chassis, Master Locking System standard on KUV models for Ford E-Series and GM Express/Savana cutaway chassis).
Cargo Area with Cab Access Door
Spacious cargo area for transporting oversized inventory, tools, and equipment. Sliding cab access door with window can be locked from the cab and secured in either an open or closed position.
Interior LED Light
Single interior LED light in cargo area for improved visibility in low light conditions. Light switch is located inside the rear cargo doors.
Grab Handle
Interior cargo area grab handle located directly inside the rear cargo doors on the curb side for easy and safe access.
ABS Partition
Refined ABS partition is equipped with a sliding cab access door and window. The door's slam latch can be locked from the cab and secured in either an open or closed position.
Wind Deflector
Aerodynamic wind deflector mounted on body above cab. Standard on high roof models only.
Wind Deflector
Add increased aerodynamics and looks to your body. Wind deflector is molded from composite material and has 14 gauge galvanneal mounting plate, and is to be installed on front of bodies. Available for low roof (L) body models only.
Rear Door Windows
Rear doors installed with glass in lieu of standard doors with no glass. Doors are double panel aluminum with reinforcement around the window and 2 point slam latches. Includes punched window guards.
Overhead Ladder Rack
The ladder rack is constructed from 1/8" high-strength aluminum support brackets and 1-5/8" aluminum pipe. The load carrying capacity is 300 lbs when mounted according to recommended procedures.
Side-mount Ladder Rack
Side mounted, convenient storage option for ladders. Spring over center clamp type ladder racks with padlock tab for the side of canopy roof.
Rear Vision Camera
Includes a 7" full color LCD monitor with audio. Features infrared vision to provide adequate vision at night.
Codeable Padlock
Padlock learns your vehicle ignition key code and eliminates the need to carry both ignition key and padlock key.
E-Track
Secure large items in open or enclosed cargo area. Available as factory install with one row or two rows of E-track. Multiple add-on accessories available.
LED Compartment Lighting
Ideal for Service, Utility or Gooseneck body. Controlled and operated via vehicle up fitter switch. Switch kit and door activated switch kits also available. Multiple lengths available.
Aluminum Mechanics Drawers
Aluminum alloy construction manufactured by C-Tech. Available in multiple configurations. Rated for maximum of 250 lbs. Appearance may vary.
Power Liftgate
Manufactured by Tommy Gate. Available in steel or aluminum on certain KUV, KC and KSV bodies. Not compatible with SRW models. Maximum capacity is 1,300 lbs. Vertical travel up to 40 inches.
Power Locks
Available option for Service Bodies and KUV models using Ford E-Series or GM Express/Savana cutaway chassis. Standard feature on KUV models using Ford Transit or Ram ProMaster cutaway chassis. Integration with chassis keyless entry system (if equipped) allows for both body and cab to be operated with chassis key fob.
Bumpers
Multiple material construction available including Grip-Strut and Galva-Grip. Available in multiple finishes.
Spare Tire Retainer
Accepts tires as small as 14" up to 22.5", with up to 6" of vertical adjustment. Can be mounted on the street side of the cargo positioned close to the front.
Upper Side Glass
Provides increased natural light in cargo area
Side Access Doors
Ideal for quick and effortless side access to the interior of your KUV or KUVcc cargo area. Available for all KUV and KUVcc bodies excluding the KUV129SU.
Pull-Out Tray
Heavy duty pull-out tray rated at 500 lb. capacity.
Receiver Hitch
Class V receiver hitch (with 12,000 lb. max rating) is available on Ford E-Series and GM Express/Savanna. Class IV receiver hitch (with a 6,000 lb. max rating) is available on Ford Transit and Ram ProMaster.
| MODEL | CHASSIS CA | APPLICABLE CHASSIS | BODY LENGTH (NOMINAL) | BODY HEIGHT | BODY WIDTH | COMPARTMENT DEPTH | CLEAR DOOR WIDTH | CLEAR DOOR HEIGHT | INTERIOR CLEAR HEIGHT | NET WEIGHT (LBS) |
| --- | --- | --- | --- | --- | --- | --- | --- | --- | --- | --- |
| Ford E-Series and GM G-Series Single Rear Wheel | | | | | | | | | | |
| AKUV129SU | 80" | FORD E-350 (138"WB) GM G-VAN (139"WB) | 129.25" | 68" | 83" | 14.5" | 50.1" | 48.2" | 53.1" | 1160 |
| AKUV129SL | 80" | FORD E-350 (138"WB) GM G-VAN (139"WB) | 129.25" | 78" | 83" | 14.5" | 50.1" | 57.5" | 63.2" | 1266 |
| AKUV129SH | 80" | FORD E-350 (138"WB) GM G-VAN (139"WB) | 129.25" | 90" | 83" | 14.5" | 50.1" | 69.5" | 75.2" | 1327 |
| Ford E-Series and GM G-Series Dual Rear Wheel | | | | | | | | | | |
| AKUV129D20L | 80" | FORD E-350 (138"WB) GM G-VAN (139"WB) | 129.25" | 78" | 94" | 20" | 50.1" | 57.5" | 63.2" | 1324 |
| AKUV129D20H | 80" | FORD E-350 (138"WB) GM G-VAN (139"WB) | 129.25" | 90" | 94" | 20" | 50.1" | 69.5" | 75.2" | 1383 |
| Ford Transit Single Rear Wheel Cutaway Chassis | | | | | | | | | | |
| AKUV129SU-FT | 82.5" | FORD TRANSIT SRW CUT-AWAY W/138"WB | 129.25" | 74" | 83" | 14.5" | 50.1" | 54.1" | 59.2" | 1233 |
| AKUV129SL-FT | 82.5" | FORD TRANSIT SRW CUT-AWAY W/138"WB | 129.25" | 78" | 83" | 14.5" | 50.1" | 57.5" | 63.2" | 1253 |
| AKUV129SH-FT | 82.5" | FORD TRANSIT SRW CUT-AWAY W/138"WB | 129.25" | 90" | 83" | 14.5" | 50.1" | 69.5" | 75.2" | 1315 |
| Ford Transit Dual Rear Wheel Cutaway Chassis | | | | | | | | | | |
| AKUV129DU-FT | 82.5" | FORD TRANSIT DRW CUT-AWAY W/138"WB | 129.25" | 74" | 83" | 14.5" | 50.1" | 54.7" | 59.2" | 1233 |
| AKUV129DL-FT | 82.5" | FORD TRANSIT DRW CUT-AWAY W/138"WB | 129.25" | 78" | 83" | 14.5" | 50.1" | 58.1" | 63.2" | 1253 |
| AKUV129DH-FT | 82.5" | FORD TRANSIT DRW CUT-AWAY W/138"WB | 129.25" | 90" | 83" | 14.5" | 50.1" | 70.2" | 75.3" | 1314 |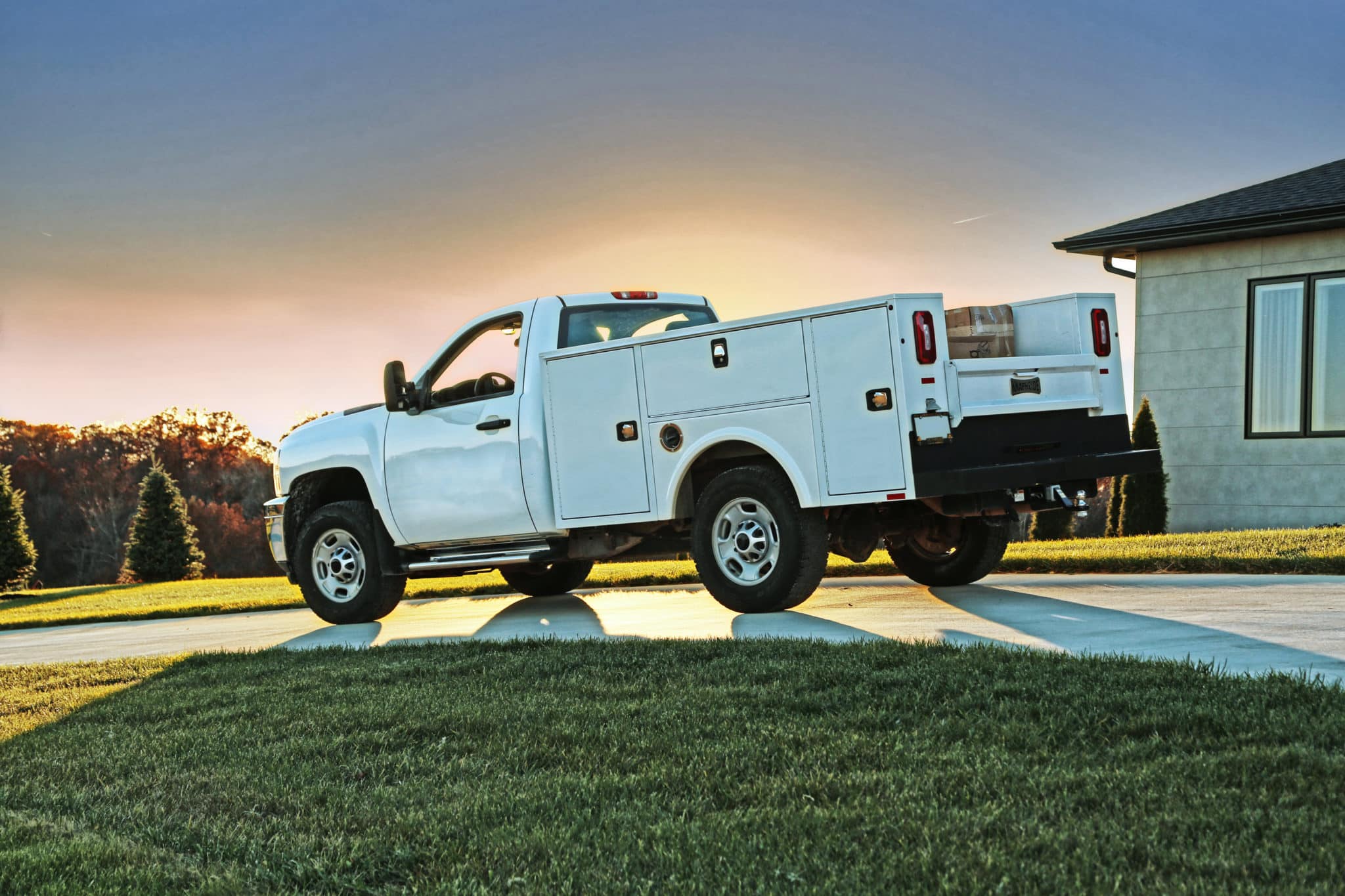 When you choose a Knapheide, you get the corrosion resistance of aluminum, an impactful increase in payload, and an aluminum body that is just as durable as steel. Lightweight doesn't…
READ MORE »