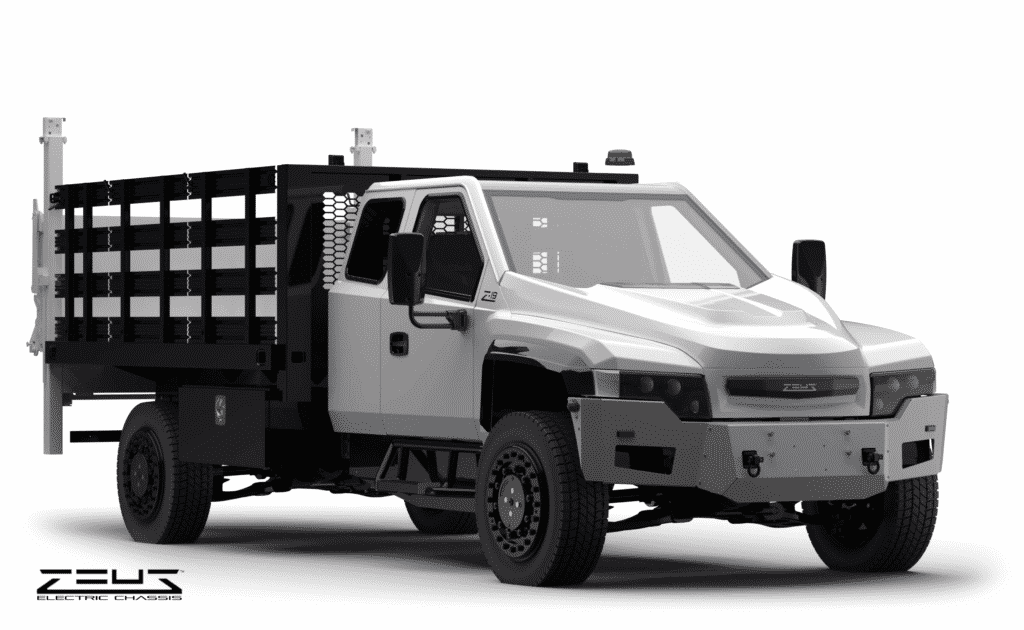 Minneapolis, MN (February 28, 2022) – When a "No-Compromises" chassis is upfit with a "Never Settle" body, the customer knows they are getting a truck built to get some real work done. And that is just what the Sacramento Municipal Utility District (SMUD) will be taking delivery of in May.
The first production Zeus Electric Chassis, Inc (Zeus) electric work trucks are being built to spec for SMUD. As a class 5 all-electric ground-up design, the trucks are the first of their kind to be delivered in the US. Four of the trucks for SMUD are being upfit with truck bodies from the Knapheide Manufacturing Co: an electric stake truck, electric open-body service truck, electric closed-body service truck with crew cab, and an electric dump truck. The electric stake truck will be one of the first off the line at the Zeus production facility in White Bear Lake, Minnesota.
Knapheide's "Never Settle" truck bodies serve as a benchmark nationwide for excellence in manufacturing, and Knapheide recognizes the importance of every truck being road-ready and customer-ready from the start.
"The best upfit solutions start with a conversation. To make fleets more productive, we need to understand what our customer wants to do, and tailor our solution to meet their needs," says Chris Weiss, Vice President of Engineering at Knapheide. "As our customers explore the opportunities with electric upfits we need to define up-front their power needs via work and range. The electric chassis is a great solution overall as it provides the power source for all the electric truck equipment. With the unique approach of the Zeus design, if more power is needed, more battery capacity can be incorporated into the chassis to meet the customer's needs."
By including body OEM Knapheide early-on in their chassis design development, Zeus leadership kept the focus on getting the work done to meet customer needs, enabling the body OEMs to do what they are uniquely qualified to do. "Other EV companies are either not knowledgeable about commercial applications, or they're intensely focused on a certain application like last mile delivery," continues Weiss. "Either way they don't understand the complexity of the commercial market, both in terms of channel-to-market and design constraints. And they are struggling with it."
To best fit a customer's needs with an OEM, Knapheide strives to be chassis-agnostic. Weiss continues that when you have a newer OEM on the scene, "you have to understand each other's business model because you're in it together, in manufacturing, marketing, distribution, and service."
The truck bodies are built at Knapheide's Quincy, Illinois manufacturing facility, and delivered to the Zeus White Bear Lake, Minnesota facility for installation. They are procured through Custom Truck One Source (CTOS). Holistic integration of the truck body with their configurable chassis is one of the key differentiators for the Zeus Power PlatformTM. While the traditional channel-to-market process for work trucks can require 4-5 months of cut-and-paste to integrate the truck body, this is not the case with Zeus. With a chassis design that keeps the battery within the framerails and incorporates pre-engineered system solutions, the upfit installation is cleaner, quicker, and safer – particularly important considering the high voltage lines that connect the chassis power to the body upfit.
The "No Compromises" Zeus all-electric chassis is the solution for fleet managers looking to adopt electric work trucks into their vocational class 4-6 work truck fleets. The Zeus chassis is designed to meet or exceed its diesel counterparts. By working with the customer first, Zeus delivers the cab-chassis needed to meet the full duty cycle (range plus work) required. The Zeus configurable chassis is agnostic, allowing the customer to continue to use their trusted OEM truck body partners on an electric work truck platform.
"It's important for Zeus to demonstrate to our customer that they can continue to get the same tried-and-true truck body on our electric chassis as they are accustomed to having. Working with Knapheide and CTOS on these initial truck deliveries allows us to do just that," said Bob Grinstead, Chief Technology Officer and Founder for Zeus.
The SMUD trucks and the story behind how Zeus' E-Mobility partners and upfitters Knapheide and Marion Body Works came together to ensure their success are featured on the cover and in detailed articles in both January's Trailer Body Builder magazine and February's Diesel Progress magazine.
ARTICLE COURTESY OF ZEUS ELECTRIC CHASSIS
##########
About Zeus Electric Chassis, Inc.
Zeus is a leading class 4-6 purpose-built, severe-duty, electric work truck solution in North America. Our mission is to engineer and manufacture uncompromising, full-electric vocational solutions that address environmental and industry needs. Our ground-up approach and willingness to co-develop allows our customers to reimagine their future business model. Zeus is well networked within the eMobility ecosystem, partnering with market leading technology suppliers, work truck OEM's, end-user fleets, and non-profit industry leaders with the mission of accelerating EV adoption nationwide.
About Knapheide
No matter your work truck needs, Knapheide can get you there. Since 1848, Knapheide has provided customers with high quality, work-ready transportation solutions. Today, Knapheide is North America's most popular manufacturer of work truck bodies and truck beds. There are more work trucks on the road today with "Knapheide" stamped on them than any other manufacturer. With a network of more than 240 distributors, Knapheide's vehicle upfitting capabilities handles everything from single-unit to large-volume fleet needs across all vehicle types and sizes. In addition, a breadth of install capabilities, unrivaled chassis access, and ability to source the best vocational equipment make Knapheide the obvious choice for your vehicle needs. Trust the name that has been in the business for over 170 years, choose Knapheide. Learn more at www.knapheide.com.
For further information, please contact:
Meredith Brandt, Communications Manager
Zeus Electric Chassis, Inc.
Phone: (844) 938-7462 Email: info@zeuselectricchassis.com
SOURCE: Zeus Electric Chassis, Inc.