The KnapKap HDS pickup truck cap has provided decades of excellent service and increased productivity to the market.
Our steel truck toppers come in many different sizes and configurations to fit virtually any pickup on the market today. With both internal and external secure storage, it is hard to beat the value of this truck cap. The fully welded steel construction of a KnapKap HDS is rugged and can withstand years of jobsite abuse.
So, if your pickup needs some organization, check out the KnapKap HDS truck cap to help increase your day to day productivity.
Complete our online quote request form and we'll help you get in touch with the right Knapheide distributor or dealer to meet your needs and get you a vehicle quote.
| Model | Applicable Pickup - Body Length | Dimensions - Height | Dimensions - Width | Dimensions - Length | Net Weight (lbs) |
| --- | --- | --- | --- | --- | --- |
| Shell (Without Rear Door) | | | | | |
| KKHDSL-FL | Full size long bed - Ford 2015 & later F150 | 25" | 73.00" F 68.50" R | 99.50" | 406 |
| KKHDSH-FL | Full size long bed - Ford 2015 & later F151 | 33" | 73.00" F 68.50" R | 99.50" | 455 |
| KKHDSL-SL | Full size long bed - Ford 2017 & later SD F250, F350 | 25" | 76.00" F 71.00" R | 99.50" | 416 |
| KKHDSH-SL | Full size long bed - Ford 2017 & later SD F250, F351 | 33" | 76.00" F 71.00" R | 99.50" | 466 |
| KKHDSL-GL | Full size long bed - GM 2015 & later Silverado / Sienna | 25" | 71.50" F 69.50" R | 99.50" | 403 |
| KKHDSH-GL | Full size long bed - GM 2015 & later Silverado / Sienna | 33" | 71.50" F 69.50" R | 99.50" | 452 |
| KKHDSL-RL | Full size long bed - RAM 2015 & later | 25" | 73.00" F 68.50" R | 99.50" | 406 |
| KKHDSH-RL | Full size long bed - RAM 2015 & later | 33" | 73.00" F 68.50" R | 99.50" | 453 |
| KKHDSL-FS | Full size short bed - Ford 2015 & later F150 | 25" | 73.00" F 68.50" R | 81.25" | 361 |
| KKHDSL-SS | Full size short bed - Ford 2017 & later SD F250, F350 | 25" | 76.00" F 71.00" R | 84.00" | 375 |
| KKHDSL-GS | Full size short bed - GM 2015 & later | 25" | 71.50" F 69.50" R | 81.25" | 358 |
| KKHDSL-RS | Full size short bed - RAM 2015 & later | 25" | 73.00" F 68.50" R | 77.50" | 354 |
| KKHDSL-CS | Compact size short bed - Colorado 2015 & later | 25" | 65.25" F 61.50" R | 75.00" | 318 |
| KKHDSH-CS | Compact size short bed - Colorado 2015 & later | 33" | 65.25" F 61.50" R | 75.00" | 364 |
| | | | | | |
| KKHDSCL-FL | Full size long bed - Ford 2015 & later F150 | 25" | 73.00" F 68.50" R | 99.50" | 437 |
| KKHDSCH-FL | Full size long bed - Ford 2015 & later F151 | 33" | 73.00" F 68.50" R | 99.50" | 462 |
| KKHDSCL-SL | Full size long bed - Ford 2017 & later SD F250, F350 | 25" | 76.00" F 71.00" R | 99.50" | 448 |
| KKHDSCH-SL | Full size long bed - Ford 2017 & later SD F250, F351 | 33" | 76.00" F 71.00" R | 99.50" | 475 |
| KKHDSCL-GL | Full size long bed - GM 2015 & later Silverado / Sienna | 25" | 71.50" F 69.50" R | 99.50" | 439 |
| KKHDSCH-GL | Full size long bed - GM 2015 & later Silverado / Sienna | 33" | 71.50" F 69.50" R | 99.50" | 465 |
| KKHDSCL-RL | Full size long bed - RAM 2015 & later | 25" | 73.00" F 68.50" R | 99.50" | 437 |
| KKHDSCH-RL | Full size long bed - RAM 2015 & later | 33" | 73.00" F 68.50" R | 99.50" | 462 |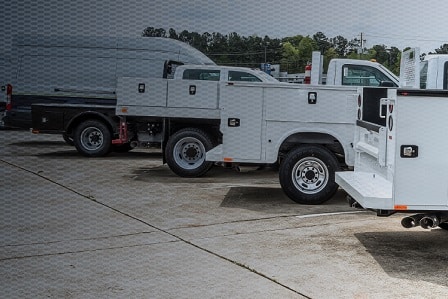 Commercial truck dealers across the nation, from large to small, stock already upfitted work trucks for immediate delivery. So the next time you are in a pinch and need access…
READ MORE »