On the ground or in the air, get it done with a Knapheide
The Knapheide Forestry Body is America's  premier chipper truck body packed with industry-leading features to help you get the job done.
Engineered and built for ground or aerial applications, all Knapheide Forestry Bodies are fully immersed in our exclusive electrodeposition prime paint system for superior corrosion resistance. Smooth side panels allow for maximum-sized company graphics to easily be applied. All Knapheide Forestry Bodies feature LED lighting for longevity and low maintenance.
When looking for your next forestry body, choose Knapheide, the most trusted name in the industry.
Complete our online quote request form and we'll help you get in touch with the right Knapheide distributor or dealer to meet your needs and get you a vehicle quote.
Search local commercial dealer inventory that's ready for work. This is the fastest way to get a Knapheide work vehicle.
Commercial truck dealers across the nation, from large to small, stock already upfitted work trucks for immediate delivery. So the next time you are in a pinch and need access to a work truck with a body already installed, be sure to view the list below of the most common in dealer inventories. Click on…
E-Coat Immersion
Knapheide Bodies are fully immersed in Knapheide's 12-step, electrodeposition prime paint system for superior corrosion resistance.
LED Lights
LED S/T/T and B/U lights for extended life and low maintenance.
Ladder Box
Full length ladder box with pole pruner shelf and lockable access door for storage and security.
Punched Vents
Punched vents in upper side panels for air circulation during chipping operations.
Side Panels
Industry exclusive 14 gauge galvanneal smooth side panels easily accept company graphics for a rolling billboard.
Undercoat
Under side of body receives additional corrosion protection with Knapheide's water-based undercoat.
Bow Bracing
16 gauge galvanneal steel roof panel reinforced with internal roof bow bracing for a clean overall appearance.
Tailgate
24" tall, 14 gauge galvanneal steel double-panel tailgate swings open 270 degrees and latches securely in the open position on the curb side for operator safety.
Amber Strobe Lights
Provide better visibility for working crew and increases jobsite safety. Available for Forestry Bodies.
Double Door Rear Gate
Removes pole pruner and ladder access box and for increased carrying capacity on Knapheide Forestry Body.
Pintle Hitch
Ideal for rough driving conditions and potential off-road use. Great option for those in tree care industry.
Storage Packs
L-Pack and I-Pack configurations are made to fit either straight or notched forestry body. Optimal storage solution for few or many products.
Wheel Chocks
Placed directly behind the rear tires. Quick access to your wheel chocks. Holders angled inward for increased security.
Toolboxes
Available for Knapheide Platform, Gooseneck, Dump, and Forestry Bodies for additional storage capacity. Above or under body toolboxes available in multiple sizes to fit your application.
Cone Holder
Convenient storage of road/safety cones on front of vehicle allows for easy access and secure transport
| Model | Body Length | Min. Recommended Chassis GVWR | Capacity Yards | Exterior Dimensions - Length (in) | Inside Dimensions - Height (in) | Net Weight (lbs) |
| --- | --- | --- | --- | --- | --- | --- |
| Forestry Bodies - Notched | | | | | | |
| KFBN-1166 | 11' | 19500 | 15 | 135 | 66 | 2051 |
| KFBN-1266 | 12' | 19500 | 17 | 147 | 66 | 2225 |
| KFBN-1472 | 14' | 19500 | 19 | 171 | 72 | 2670 |
| Forestry Bodies - Straight | | | | | | |
| KFBS-1266 | 12' | 19500 | 18 | 147 | 66 | 2350 |
| KFBS-1472 | 14' | 19500 | 20 | 171 | 72 | 2850 |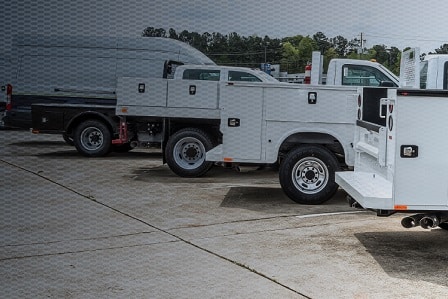 Commercial truck dealers across the nation, from large to small, stock already upfitted work trucks for immediate delivery. So the next time you are in a pinch and need access…
READ MORE »