Our work truck toolboxes come in many different configurations and they are all as tough as nails too.
Knapheide toolboxes are a great compliment to your pickup or Knapheide Platforms, Dumps, and Goosenecks. Reinforced toolbox doors add strength and keep their shape year after year without adding unnecessary weight.
With options of above body or under body toolboxes and over twenty different lengths, the Knapheide Toolbox lineup can fulfill your tool storage needs.
Complete our online quote request form and we'll help you get in touch with the right Knapheide distributor or dealer to meet your needs and get you a vehicle quote.
| Model | Length | No. of Doors | Height | Depth | Net Weight (lbs) | Capacity (Cu. Ft) |
| --- | --- | --- | --- | --- | --- | --- |
| Above Body Toolboxes | | | | | | |
| TBA3616 | 36.12 | 1 | 16.25 | 13 | 63 | 3.7 |
| TBA4616 | 46.12 | 1 | 16.25 | 13 | 78 | 4.8 |
| TBA4816 | 48.12 | 1 | 16.25 | 13 | 80 | 5 |
| TBA7016 | 70.12 | 2 | 16.25 | 13 | 114 | 7.3 |
| TBA7216 | 72.12 | 2 | 16.25 | 13 | 117 | 7.5 |
| TBA7816 | 78.12 | 2 | 16.25 | 13 | 124 | 8.1 |
| TBA8416 | 84.12 | 2 | 16.25 | 13 | 134 | 8.7 |
| TBA9016 | 90.12 | 2 | 16.25 | 13 | 143 | 9.3 |
| TBA9616 | 96.12 | 2 | 16.25 | 13 | 151 | 9.9 |
| TBA10216 | 102.12 | 2 | 16.25 | 13 | 159 | 10.6 |
| Underbody Tool Boxes | | | | | | |
| TBU2014 | 20.12 | 1 | 14.25 | 14 | 37 | 2 |
| TBU2414 | 24.12 | 1 | 14.25 | 14 | 43 | 2.4 |
| TBU3014 | 30.12 | 1 | 14.25 | 14 | 52 | 3 |
| TBU3614 | 36.12 | 1 | 14.25 | 14 | 60 | 3.6 |
| TBU4814 | 48.12 | 1 | 14.25 | 14 | 77 | 4.8 |
| TBU2418 | 24.12 | 1 | 18.25 | 18 | 56 | 4.1 |
| TBU3018 | 30.12 | 1 | 18.25 | 18 | 68 | 5.1 |
| TBU3618 | 36.12 | 1 | 18.25 | 18 | 78 | 6.1 |
| TBU4818 | 48.12 | 1 | 18.25 | 18 | 99 | 8.1 |
| TBU6018 | 60.12 | 2 | 18.25 | 18 | 121 | 10.2 |
| TBU3024 | 30.12 | 1 | 24.25 | 24 | 95 | 9.3 |
| TBU3624 | 36.12 | 1 | 24.25 | 24 | 108 | 11.1 |
| TBU4824 | 48.12 | 1 | 24.25 | 24 | 135 | 14.9 |
| TBU6024 | 60.12 | 2 | 24.25 | 24 | 164 | 18.7 |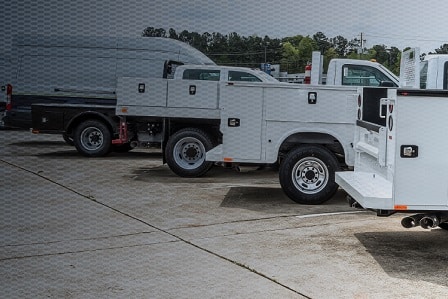 Commercial truck dealers across the nation, from large to small, stock already upfitted work trucks for immediate delivery. So the next time you are in a pinch and need access…
READ MORE »