Knapheide has taken their most popular flatbed, the Value-Master X, and packaged it up with options and accessories that contractors commonly desire to make their job easier. Above and underbody Roughneck Toolboxes provide the contractor with easily accessible and secure tool storage. An overhead material rack accommodates for convenient storage for up to 1,500 pounds of longer materials. Side and rear stakes close off the cargo area so oversized equipment or materials won't fall out during transport. Select the Knapheide Contractor Body to get the most out of your work day.
Complete our online quote request form and we'll help you get in touch with the right Knapheide distributor or dealer to meet your needs and get you a vehicle quote.
Search local commercial dealer inventory that's ready for work. This is the fastest way to get a Knapheide work vehicle.
E-Coat Immersion
Knapheide Bodies are fully immersed in Knapheide's 12-step, electrodeposition prime paint system for superior corrosion resistance.
Bumper
ICC Bumper for under-ride protection and for compliance with FMVSS regulations.
Platform Base
PVMX platform base is comprised of 11-gauge high tensile strength steel cross sills on 18" centers with 5" structural C-Channel long sills
Toolboxes
(1) above body and (1) underbody toolbox on each side of the body. (Toolbox size is dependent on platform length). Toolboxes include double panel door construction and 3-point T-handle latches.
Side and End Rails
Side and end rails constructed of formed 12-gauge, high-strength steel (50,000 psi)
Aluminum Treadplate Rock Guards
Installed on the front of each underbody toolbox for added protection
Screened Window Bulkhead
Contoured to conform to the lines of the cab while offering maximum visibility
LED Clearance and Marker Lights
Bright output for increased visibility and additional safety
Material Rack
Rated for 1,500 lb., is side forklift loadable, has swing-away rear cross bar and removable intermediate cross bars for loading taller items, and tie down hooks to help secure your items
Side and Rear Stake Racks
Hinged to drop down 180 degrees for maximum access. Rear stake rack is separated into two sections for additional functionality
Full Height Tailboard
Located at the rear of the above body toolboxes to separate the bed space
Contractor Package
Available for Knapheide Gooseneck Body. Covers open area on sides and rear of body. Includes above and under body toolbox on each side of platform.
Aluminum Treadplate Overlay
Aluminum treadplate adhered to top of toolboxes for increased durability and added aesthetic
8' Underbody Storage Compartment
Offers additional storage beneath the body
| Length | Treadplate Floor - Model | Treadplate Floor - Net Weight (lbs) | Polyboard Floor - Model | Polyboard Floor - Net Weight (lbs) |
| --- | --- | --- | --- | --- |
| Dual Rear Wheel Chassis with 60-108" CA | | | | |
| 9' | PCON-9DB-W | 1826 | PCONP-9DB-W | 1959 |
| 9' | PCON-9DB-B | 1826 | PCONP-9DB-B | 1959 |
| 12' | PCON-12DB-W | 2236 | PCONP-12DB-W | 2534 |
| 12' | PCON-12DB-B | 2236 | PCONP-12DB-B | 2534 |
| 14' | PCON-14DB-W | 2628 | PCONP-14DB-W | 2918 |
| 14' | PCON-14DB-B | 2628 | PCONP-14DB-B | 2918 |
| W-Knap White Finish, B-Black Finish | | | | |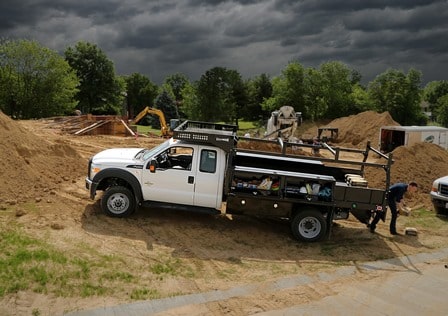 The Knapheide Manufacturing Company, the nation's leading provider of commercial vehicle solutions, announces the release of two vocational specific Platform Bodies.  The Concrete Body is a newly released heavy-duty Platform Body.…
READ MORE »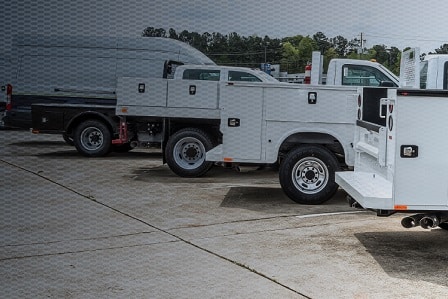 Commercial truck dealers across the nation, from large to small, stock already upfitted work trucks for immediate delivery. So the next time you are in a pinch and need access…
READ MORE »