Aerial Bucket Trucks or Digger Derricks
Knapheide Lineman Service Truck Bodies are engineered to handle some of the most demanding applications out there.
Compatible with medium-duty or heavy-duty chassis, Knapheide Line Bodies have been put to the test in many different industries including utility, municipality, power generation, construction and more. H-Series models feature compartments behind the rear axle specifically for ground or aerial applications while BH-Series (bobtail) bodies do not have compartments behind the rear axle to accommodate digger derrick applications.
If your job calls for a reliable and rugged lineman body, choose Knapheide.
Complete our online quote request form and we'll help you get in touch with the right Knapheide distributor or dealer to meet your needs and get you a vehicle quote.
Search local commercial dealer inventory that's ready for work. This is the fastest way to get a Knapheide work vehicle.
E-Coat Immersion
Knapheide Bodies are fully immersed in Knapheide's 12-step, electrodeposition prime paint system for superior corrosion resistance.
Body Shell
Rugged 14-gauge, two-sided A-40 galvanneal steel body shell with a six year warranty. Complete undercoating provides an additional layer of corrosion protection.
Door Seals
Triple contact door seals provides protection against the outside elements for your tools and equipment.
Door Retainer
Double spring over-center door retainer on all doors eliminates involuntary swing and keeps the door in positive open or closed position.
Stainless Steel Hinge
Continuous stainless steel hinge for unmatched security and corrosion resistance, backed by the Knapheide six year warranty.
Interior Light Guard
Interior light guards provide protection for recessed lighting and wiring package.
Security Ring
Adjustable security ring strikers provide strength, security, and a weather tight seal throughout the entire life of the body.
Return Flange Floor
Exclusive "Return Flange" floor design provides support for side compartments, adds floor strength, and eliminates rust-prone exposed seam between floor and side compartments.
Slam Lock Tailgate
Includes slam-lock tailgate with one-hand center release
C-Channel Understructure
Superior understructure strength from 6" formed C-Channel cross sills
Automotive Latch
Automotive quality, paddle-activated rotary style latches make opening and closing easy. Low maintenance and stylish, the latches are covered under Knapheide's six year warranty.
Modular Tailshelf
Fully welded shelf available in multiple widths. Includes pass-through interior shelf for added storage.
Pull-Out Tray
Heavy duty pull-out tray rated at 500 lb. capacity.
Cable Steps
Ideal for crane and line bodies with higher bumpers. Safely access the cargo bed area of the body without need to jump up or down, impoving ease-of-use and safety.
Tie Downs
Ideal for safely securing heavy equipment in your cargo area. Zinc-plated. Rated at 2,000 lbs.
Codeable Padlock
Padlock learns your vehicle ignition key code and eliminates the need to carry both ignition key and padlock key.
E-Track
Secure large items in open or enclosed cargo area. Available as factory install with one row or two rows of E-track. Multiple add-on accessories available. Appearance may vary.
Grab Handles
Steel construction. Zinc or chrome plating. Available for most Knapheide Service Bodies.
Master Locking System
Lock all compartments on one side with one device/action. Operates independent of your key locks for added security. .
Telescopic Sliding Roof
Designed to protect the contents of your cargo area from theft. Available in two or three piece section.
Torsion Box Floor
Minimize torsional stress to the body. Ideal for severe off-road environments for Standard Service Bodies, Line Bodies and crane operation for CRK Service Bodies. Order in conjunction with Crane Reinforcement Kit (CRK) option.
Vise Bracket
Compatible with most Service, Utility and Line bodies. Steel construction. Mounting surface pre-punched to accommodate multiple sizes of Wilton vise.
Side Mount Ladder Rack
Constructed of 1" structural pipe. Includes rubberized nylon belts for securing ladder in stowed position. Maximum carrying capacity is 150 lbs.
Bumpers
Knapheide has developed several bumpers and tailshelves compatible with Line Bodies, including recess bumpers for hauling heavy loads.
Compartment Shelves
250 lb. capacity adjustable divider shelves made of rugged spangled galvanized steel. Divider slots on 4" centers. Shelves are covered by the Knapheide six year warranty.
Bottle Gas Retainer
Added protection and security for transport of bottled materials
Swivel Hooks
Offers increased convenience in accessing tools and equipment
Outrigger Pad Carriers
Convenient storage option for outrigger pads
LED Compartment Lighting
Ideal for Service, Utility or Gooseneck body. Controlled and operated via vehicle up fitter switch. Switch kit and door activated switch kits also available. Multiple lengths available.
Body Side Access Steps
Grip-Strut access steps installed in lieu of the first, second, or rear vertical compartment. Installed on the curb side of the compartment.
Rubber Fenderettes
Rubber construction adds safety and aesthetics to body around wheel wells
Rear Access Door and Full Length Shelf
Convenient access and storage from the rear of the body for long tools and other equipment
Aluminum Mechanics Drawers
Aluminum alloy construction manufactured by C-Tech. Available in multiple configurations. Rated for maximum of 250 lbs. Appearance may vary.
Shelving and Dividers
Optimizes storage and organization with quick, easy access to your tools and other equipment
| Model | Chassis CA | Body Length | Body Height | Body Width | Compartment Depth | Overall Height - Floor to Compartment Top | Net Weight (lbs) |
| --- | --- | --- | --- | --- | --- | --- | --- |
| Conventional Models | | | | | | | |
| 6107H | 60" | 107" | 50" | 94" | 18" | 29" | 1550 |
| 6121H | 72" | 121" | 50" | 94" | 18" | 29" | 1780 |
| 6133H | 84" | 133" | 50" | 94" | 18" | 29" | 1898 |
| 6147H | 102" | 147" | 50" | 94" | 18" | 29" | 2130 |
| 6155H | 108" | 155" | 50" | 94" | 18" | 29" | 2238 |
| 6165H | 120" | 165" | 50" | 94" | 18" | 29" | 2330 |
| 6169H | 124" | 169" | 50" | 94" | 18" | 29" | 2377 |
| Bobtail Models (Excludes rear compartments; for use with aerial buckets and digger derricks.) | | | | | | | |
| 6133BH | 108" | 133" | 50" | 94" | 18" | 29" | 1940 |
| 6145BH | 120" | 145" | 50" | 94" | 18" | 29" | 2063 |
| 6149BH | 124" | 149" | 50" | 94" | 18" | 29" | 2102 |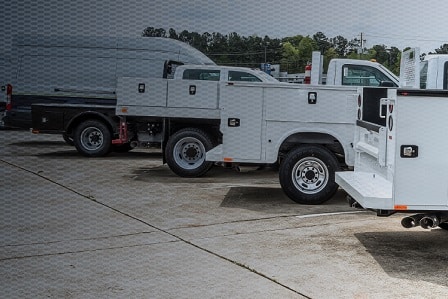 Commercial truck dealers across the nation, from large to small, stock already upfitted work trucks for immediate delivery. So the next time you are in a pinch and need access…
READ MORE »