Knapheide's KWT2 Water Truck is out working all over the globe. From military applications in the Middle East to construction sites in the Southwestern United States, Knapheide Water Trucks are put to the test day in and day out.
The KWT2 Water Truck features a 2,000 gallon capacity tank with air-operated spray heads for maximum coverage. The tank has a flat center space for convenient application of company decals.
Let Knapheide's KWT2 Water Truck provide a mobile water source for your application.
Complete our online quote request form and we'll help you get in touch with the right Knapheide distributor or dealer to meet your needs and get you a vehicle quote.
Water Cannon
Enables precise water placement/delivery for your water distribution system
Draft Fill
Ideal for excavating water and other substances into water tank. Requires compatible pump system for use.
Custom Reels
Electric and manual reels available for a variety of vocations
Warning and Work Lights
Provides increased safety and visibility on the jobsite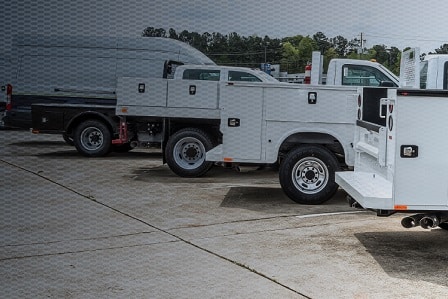 Commercial truck dealers across the nation, from large to small, stock already upfitted work trucks for immediate delivery. So the next time you are in a pinch and need access…
READ MORE »