Knapheide's KWT4 Water Truck has a 4,000 gallon water tank for maximum capacity. Compatible with tandem axle chassis, KWT4 Water Trucks are ideal for many different applications including dust control and delivery.
Knapheide Water Trucks employ a cross baffle to prevent sloshing during transport. Sight gauges enable the operator to easily view water levels without having to climb onto the top of the tank.
If your jobsite depends on a Water Truck, let the Knapheide KWT4 Water Truck work for you.
Complete our online quote request form and we'll help you get in touch with the right Knapheide distributor or dealer to meet your needs and get you a vehicle quote.
Water Cannon
Enables precise water placement/delivery for your water distribution system
Draft Fill
Ideal for excavating water and other substances into water tank. Requires compatible pump system for use.
Custom Reels
Electric and manual reels available for a variety of vocations
Warning and Work Lights
Provides increased safety and visibility on the jobsite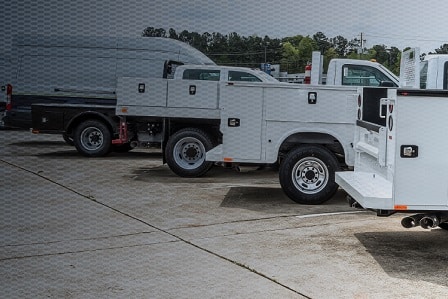 Commercial truck dealers across the nation, from large to small, stock already upfitted work trucks for immediate delivery. So the next time you are in a pinch and need access…
READ MORE »