Are you ready to switch or upgrade to a new Knapheide Platform Gooseneck?
Knapheide Platform Gooseneck (PGT) bodies integrate our time-tested platform and service bodies with the B&W Turnoverball® Hitch for maximum hauling and towing capacities. Our PGT lineup offers a variety of configurations, from basic to deluxe and steel to aluminum, set apart by their prefix and suffix.
Learn more about the ABCs of our PGTs and their features below.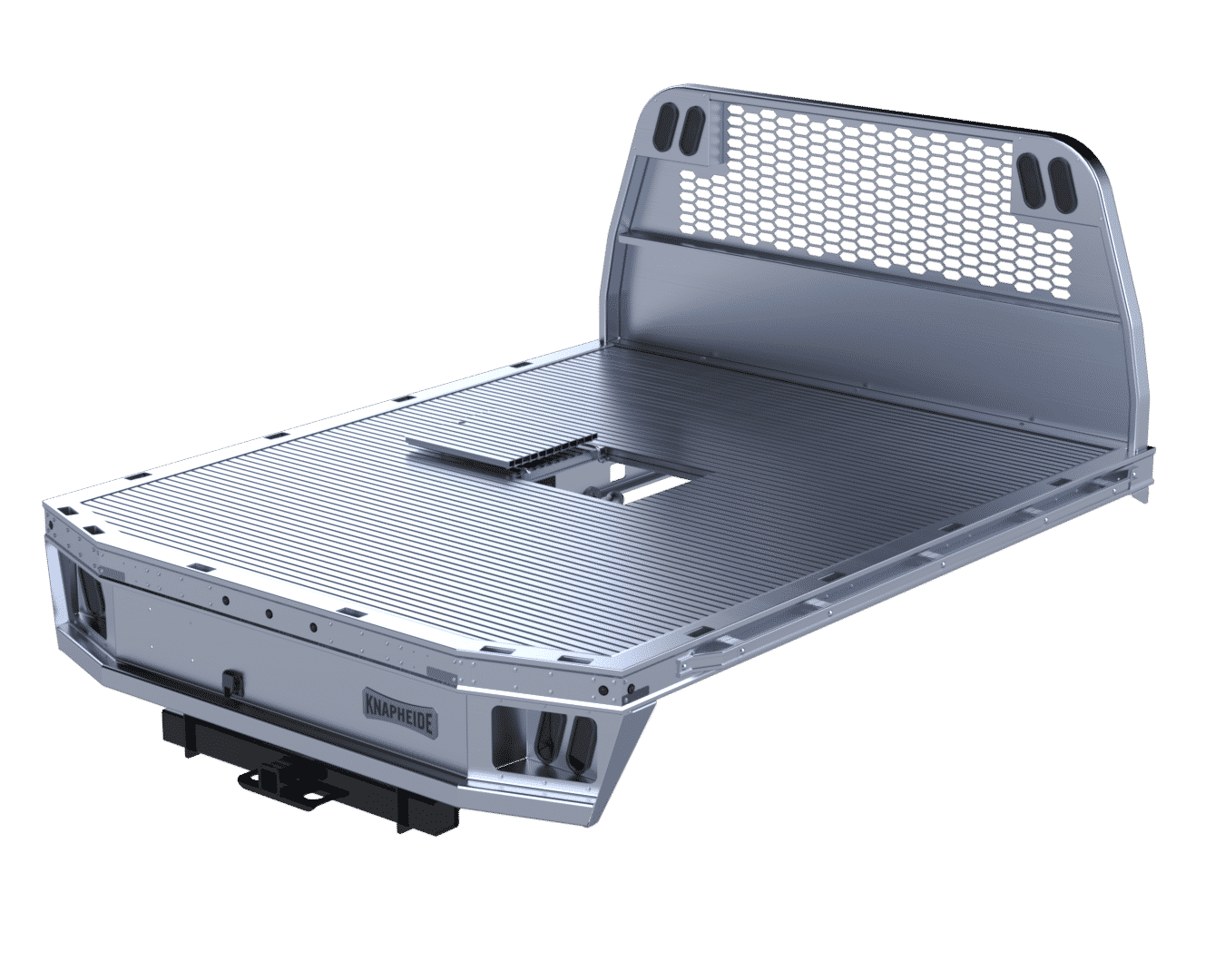 A (Aluminum)
AL-PGTB
Experience superior corrosion resistance with the Aluminum PGTB, providing protection against even the worst elements and harshest work environments.
The Aluminum PGTB, although lighter than its steel counterpart by 40%, still provides remarkable strength and rugged durability. The lighter body means a higher payload for your load or tow. And don't worry; the B&W Turnoverball® Hitch system can handle the extra weight; it's rated up to 30,000 lb.
B

PGTB

The Knapheide PGTB offers all the components you need to haul a gooseneck trailer. The gooseneck system, located beneath the floor of the platform, coupled with an integrated hitch receiver system, allows you to tow virtually any style of trailer.
The punched bulkhead provides maximum visibility and an added layer of protection in the event of a collision. The PGTB also includes stop, tail, turn and backup lights in the rear skirt, bulkhead and side rub rails for added functionality, convenience and safety.
Thanks to the internal stake pockets, the customization possibilities for PGTBs are endless, making them more than capable of adapting to your needs.
Models are available for single and dual rear wheel chassis applications with 8', 9' and 11' body lengths. Accessories and options are available to tailor the upfit to your specific work needs.

C
PGTC
Offering enhanced styling and superior functionality, the PGTC is more easily recognized thanks to its distinct side-skirt styling and integrated toolboxes on the front and rear of the body. The sleek, functional design provides users with ample practical storage. Because of the integrated under-body storage compartments, the PGTC is the perfect choice for someone who needs top-tier towing capabilities and utility.
Like the PGTB model, the PGTC's integrated stake pockets provide users with additional options to increase its functionality, whether that be with stake racks or contractor packages.
Just like all other steel PGN bodies, the PGTC is immersed in Knapheide's exclusive E-Coat prime paint system to protect the body from corrosion, giving you peace of mind.

D
PGTD
Welcome to the top-of-the-line.
The PGTD is our most deluxe gooseneck body option, providing the functionality of service and gooseneck bodies in one.
The body features a variety of compartments to keep users organized, from 36" high-front to flip-top. The body also features a full-height slam tailgate, contoured bulkhead, all-LED lights and under-the-floor B&W Turnoverball® Hitch system. For those looking to haul non-gooseneck trailers, bolt-on receiver hitches are available.
Still not sure which gooseneck platform body is right for you?
We've made it easier with a great selection of upfit guides available to download now. To get your upfit guides, click here.