Four Service Tips for Commercial Truck Dealers
Your commercial customers rely on their work vehicles for more than just transportation; they're often an important tool in helping them get their job done. When a work truck is down, it impacts their livelihood or the revenue of their company. Whether your customer is part of a one-man or one-hundred-man operation, they need exceptional pre-and post-sale support.
Consider these tips for your commercial and fleet customers. Implementing any or all may produce a competitive advantage for your dealership, and potentially increase your customer retention.
Preventative Maintenance Program
Whether it's a one-ton truck or compact cargo van, your commercial customer will need preventative maintenance to keep their vehicle running optimally. Develop a scheduled maintenance program and include the essentials: fluid intervals, tire rotations, etc., to drive revenue for your dealership and provide value to your customers.
Many of your commercial customers work don't keep a 9-5 and are often on call around the clock. Offering extended service hours in the evening, early morning, weekends or all three, give commercial customers more of an opportunity to have their vehicle serviced at a time convenient for them. After all, HVAC systems fail at all hours and the snow doesn't stop falling just because it's dark.
Priority service is important. We all know what it's like to wait around for your turn in the queue for an oil change. For commercial customers, like contractors, that time is a luxury they often can't afford. Dedicated commercial service bays get work trucks back on the road faster and assure your commercial customers that they are a priority to you and your dealership.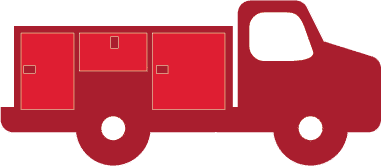 Commercial Courtesy Vehicles
On the retail side, offering loaner vehicles for customers is a common practice. Why not replicate that convenience for your commercial customers?
While you're probably not going to have the same exact vehicle sitting on your lot, providing something similar could go a long way in fostering a positive relationship with your customer and showing them you're there to support them. After all, it's not just the inconvenience of not being able to run to the grocery store or complete other errands, the vehicle is the difference between them being stuck and being able to continue their job and create revenue. Providing a commercial courtesy vehicles is especially vital for instances when the customer's vehicle will be out of commission for an extended period of time due to servicing.
Beyond these four tips, continue to consider what obstacles your commercial customers may be facing and what you can do to mitigate those problems when it comes to your business. While their needs are different than retail customers and may be more difficult to overcome, providing timely and quality service can go a long way in creating lifelong customers.