When it comes to hauling bulk materials, a platform body (or flatbed) is the ultimate solution. With ample platform space, numerous opportunities for tie-down integration, and varying sizes and configurations to match applications large and small, a platform body is a versatile addition to your fleet.
DETERMINE YOUR WORK ENVIRONMENT AND TRUCK NEEDS
Depending on how you'll use it, there's more to a platform body than deciding how big or robust it needs to be. There are different types of platforms, ranging from varying sizes of basic hauling platforms to fully-contented, vocation-specific bodies containing integrated storage, material racks or sides.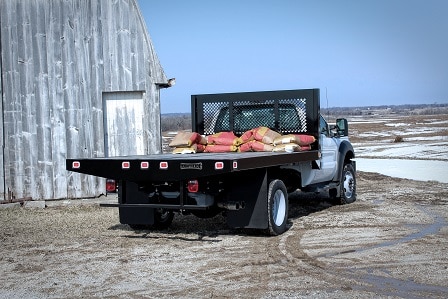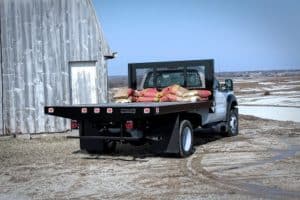 STANDARD PLATFORM APPLICATIONS
The weight and volume of what you're hauling should help you decide on the size of platform you need. There are platform body options from Class 2 through Class 8 that offer different lengths and widths to fit your hauling needs. The more, and heavier, you need to haul, the larger chassis and beefier platform body combination you'll need.
Flatbeds all offer the same basic capabilities for bulk material transport. Most often, the difference between models of platform bodies exists underneath the platform floor. The material, thickness and spacing of the long sills, crossmembers and gussets are all important for structural integrity. A platform body that consistently hauls heavy loads will need to have the understructure to support it.
Beyond the size of your hauling platform, you'll need to consider the different options for the hauling surface. Most platforms are available with different floor material including smooth steel, treadplate, and wood or composite planks. Wood floor, typically tongue-in-groove construction, is commonly the most cost-effective choice and can be replaced easier in comparison to smooth steel or treadplate. Smooth steel and treadplate offer increased durability and strength. For the most severe applications, consider a smooth steel or treadplate overlay installed on top of wood floor.
Quite possibly the most important aspect of bulk material transport is securing the load, and it's something to consider while specing your body. Things like D-ring tie-downs, underbody tie-downs, and rope hooks serve as means to secure your cargo to the platform floor for safe transport. Securing the load to the platform floor will keep you and others around you on the road safe.
If you need additional ways to store cargo, platform bodies can also be outfitted with a variety of side options to retain cargo . Stake racks, punched sides and solid sides are all viable options for your flatbed. Stake sides can be easily removed for applications that call for constant loading and unloading, like palletized materials. Popular within the landscaping industry, punched sides easily retain landscape bulk materials like mulch.
Speaking of security, don't dismiss the need for a bulkhead for your own safety. Installing a bulkhead on your platform body ensures you and your passengers are protected from your heavy cargo in the instance of any sudden, unexpected stops. Be sure to choose a bulkhead that can withstand the weight and force of the cargo behind you. While bolt-on style bulkheads generally cost less, weld-on bulkheads offer more rigidity and structural strength.
VOCATION-SPECIFIC PACKAGES
Some jobs call for more than just a standard platform. There are many vocation-specific options, such as contractor, concrete and landscaper bodies, that provide factory-installed options tailored to certain job types.
Contractor and concrete style bodies take platform bodies and oftentimes add additional storage with over-and-under-body toolboxes, material racks and stake sides or solid sides. These packages create a perfect blend of cargo hauling capability and storage for contractors.
Landscaper packages integrate taller landscape sides, typically with rear and side access doors, as well as a dump hoist for easy unloading of landscaping wastes.
PLATFORM LOADING AND UNLOADING
It's probably safe to assume you'll be loading and unloading regularly from your platform body, and there are tools that can make the processes easier.
When it comes to loading your platform, a liftgate can make your life much easier; especially if the load is too heavy for manual loading and unloading.
As far as unloading, as long as your contents aren't fragile, a hydraulic hoist can make dumping your contents much easier. Lifts are very common on landscaper bodies and other bodies that require quick dumping of the load.
If you already have a truck, your selection of platform body lengths will be limited to what is compatible with your chassis cab to axle length (distance from the back of the cab to the center of the rear axle). If you are purchasing a new truck for your flatbed, be sure that the body length you need is compatible with your desired chassis. Below is compatibility chart so you know which cab to axle measurements fit with which flatbed body lengths.
| CHASSIS CAB TO AXLE | BODY LENGTH |
| --- | --- |
| 34" – 50" | 7' Body |
| 56" - 60" | 8' Body |
| 60" | 9' Body |
| 72" - 84" | 10' Body |
| 84" | 11' Body |
| 84" - 102" | 12' Body |
| 108" | 13' Body |
| 102" - 124" | 14' Body |
| 108" – 138" | 16' Body |
| 120" – 152" | 18' Body |
| 136" – 168" | 20' Body |
| 144" – 192" | 22' Body |
| 158" – 196" | 24' Body |
| 196" - 270" | 26' Body |
Where will you be using your body the most? Depending on if you'll be off-road or on, you'll need to make the choice between a 4×4 or 4×2 chassis.
Engine type is also a major consideration when choosing a chassis. Depending on your application, you'll need to consider a gas or diesel engine. Things like cost, power needs, fuel efficiency, PTO needs, idle frequency and maintenance can play a part in which type of engine to choose.
NOTE: Most chassis manufacturers and truck body upfitters don't install bodies on half ton or smaller trucks. In most cases, the remaining payload after installing the body would be minimal and it will more than likely void the chassis warranty.
POPULAR OPTIONS FOR YOUR PLATFORM BODY
Bulkhead – Protect your cab and yourself from your cargo during sudden stops.
Underbody tie-downs – For large or heavy cargo, you'll need something substantial to secure it. Underbody tie-downs are available with sliding, integrated winches or as simple tie-down rails for your external winch. Regardless of which you have, they're vital to large cargo storage.
Toolboxes – When placed above or below body, toolboxes add important additional storage to your platform body.
Integrated D-ring tie downs – Integrated tie downs are extremely convenient and tend to be one of the most robust options for securing your cargo.
Stake Racks – Keep your large cargo secure during movement with stake racks.
Hoist – When unloading your platform body's contents as fast as possible is the objective, a hoist is the best option. Give your platform the ability to function as a dump body for additional productivity.
Rope Hooks – For simple tie-down jobs, rope hooks are a quick and simple application.
Landscaper Racks – Turn your platform into a capable landscaping hauler with landscaping sides. Since these are easily removable, it allows your platform to be versatile for year-round usage.
ICC Bumper or Receiver Hitch – In order for your vehicle to be street legal, it must have either an ICC bumper or bumper/receiver hitch installed. The decision between these two options comes down to your additional trailer hauling needs.